De Beers Millennium 10.1-Carat Oval Blue Diamond May Fetch $35 Million at Auction
March 13, 16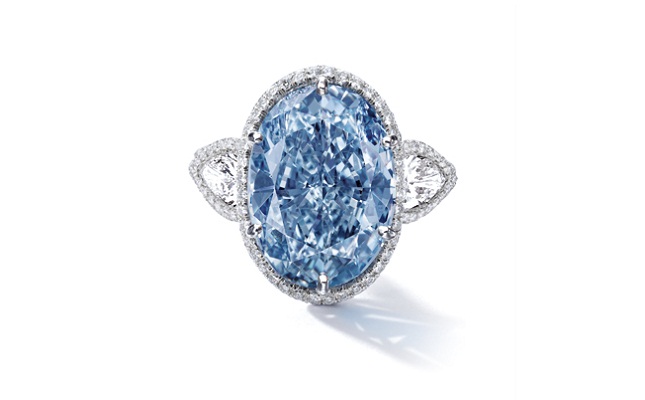 (IDEX Online News) – Auction house Sotheby's has announced that it will auction the De Beers Millennium Jewel 4, an internally flawless vivid blue diamond weighing 10.1 carats.
The blue jewel is one of twelve rare diamonds – eleven blue and one colorless – which comprise the De Beers Millennium Jewels collection, unveiled in 2000 to celebrate the Millennium. Jewel 4, which comes from a private collector in Asia, is the only oval-shaped stone in the collection and is predicted to sell for HK$235 million to HK$280 million ($30 million to $35 million).
The blue diamond will be taken on a worldwide tour and be exhibited in Sotheby's offices in Singapore, New York, London, Geneva, Taipei, and finally Hong Kong, where it will go under the hammer on April 5, at the auction house's Magnificent Jewels and Jadeite spring sale.
"The market for colored diamonds has gone from strength to strength, and this spring we are thrilled to present the De Beers Millennium Jewel 4," said Sotheby's Asia deputy chairman Quek Chin Yeow.
"Fifteen years ago I had the great opportunity of seeing this magnificent stone for the first time, and it is an absolute delight now to have it in one's hand, to admire it again and to offer it for auction in Asia."
In November, Sotheby's sold the "Blue Moon of Josephine," a 12.03-carat cushion-shaped, internally flawless vivid blue diamond, to Hong Kong property tycoon Joseph Lau, for a world-record $48.5 million.