Oscars Jewelry Fashion Report: Drop Earrings & Hair Jewelry
March 09, 06
All eyes were on Los Angeles, as the Academy Awards got underway. While all of Hollywood had gathered to honor the film industry, movies took a back seat to fashion and jewelry as the stars made their way down the red carpet.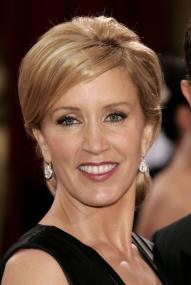 Felicity Huffman
Oscar nominee Felicity Huffman was decked out in $2 million worth of jewels from Martin Katz. The Desperate Housewives star wore a platinum and diamond bracelet with 38 carats of round diamonds, valued at $125,000; pear shaped diamond drop earrings of 7 carats, each valued at $750,000; 15 carat cushion cut diamond ring, valued at $850,000; Diamond "Gardenia" brooch worn in her hair, over 100 diamonds totaling 40 carats, valued at $190,000.
Dolly Parton, who is usually more rhinestone than diamond, wore more than $2 million worth of jewelry from Fred Leighton. Parton's earnings, diamond briolette pendant earrings with old European cut diamonds of approximately 5 carats and briolette diamond drops of approximately 16 carats each, alone were valued at $1,215,000.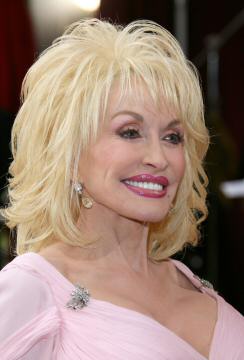 Dolly Parton
She also wore two vintage diamond bracelets (one from the 1930s, one from the 1920s), valued at $265,000; a diamond chain necklace with approximately 47.8 carats of round brilliant cut diamonds, valued at $100,000; 10.58 carat antique cushion-cut diamond ring ($350,000); 3.01 carat pear shaped diamond ring ($75,000); a pair of 1920s diamond flower clip brooches in platinum ($12,500); a diamond bon-brooch ($120,000); a pair of 1930s diamond "string bean" brooches ($60,000); a pair of 1930s "string bean" brooches ($40,000).
Heralding a new fashion, one of the trends of the night was for stars to wear diamonds in their hair. The look was embraced by Jessica Alba, who sported a 5 carat, $13,000 champagne and cognac diamond hair pin with 44 round diamonds. Jennifer Garner wore an 8 carat vintage diamond hair brooch from "Paris 1964," worth $76,000. Bai Ling wore a $250,000 32 carat diamond cuff worn in hair from Effervescence collection, while Oscar winner Reese Witherspoon wore a $45,000, 19th century diamond bird hair pin.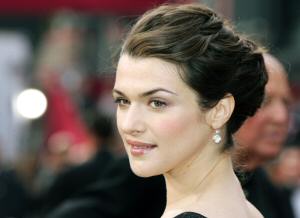 Rachel Weisz
Drop earrings continue to be extremely fashionable. Best supporting actress winner Rachel Weisz, wore emerald cut white diamond demi-drop earrings with round white diamond studs from Chopard, which she matched with a two-piece rose cut diamond ring with 2.71 carat diamond centers surrounded by 19 rose cut diamonds, 2.69 carats, also from the Swiss jewelry house. Salma Hayek opted for a pair of 15.66 carat Asscher-cut diamond earrings and a fancy intense orangy pink diamond ring of 15.23 carats, both from Leviev.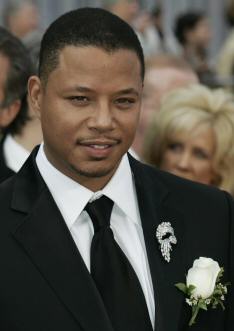 Terence Howard

Charlize Theron sported 8 carat fancy yellow diamond chandelier earrings, which she matched with three bracelets: a 44 carat fancy yellow bracelet; a white and yellow 23.41 diamond marquis-cut bracelet; and an alternating fancy yellow and white diamond bracelet, comprising 43.52 carats
But this year, the men of Hollywood gave their female counterparts a run for their money in the sparkle department, with many comments being made about Terence Howard's $500,000 30 carat platinum pear and marquis shape diamond brooch. Howard also wore a 20 carat diamond ring, worth $1 million, both from Sol Raphael, while Samuel L. Jackson wore a platinum and diamond aire traveler time piece, worth $125,000 and a personalized "SLJ" platinum tie pin, $15,000, both from Chris Aire.