IDEX Online Research: Tiffany Posts Strong Growth
March 29, 07
With an 11 percent gain in worldwide sales and a 9 percent gain in U.S. sales in 2006, Tiffany took market share from other retail jewelers. This isn't a surprise, though, since it has two distinct advantages: 1) it competes as a guild-level high-end jeweler, a market segment that has shown the strongest sales gains consistently for the past few quarters; and 2) its name has tremendous brand equity worldwide: think jewelry; think Tiffany.
The following table summarizes Tiffany's sales by market for the full year.
Tiffany & Company
Full Year Sales Results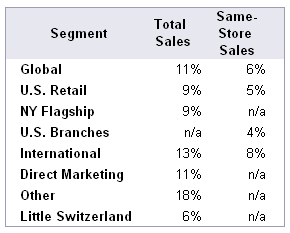 Source: Company
The following are highlights from the company's recent fourth quarter and full year results.
Tiffany's average ticket rose – Tiffany's strong sales were driven by diamonds: diamond jewelry, diamond engagement rings, diamond necklaces, diamond studs, and diamond bracelets. By category, the average ticket for Tiffany was as follows:

U.S. market statement jewelry average ticket – $91,000 vs $81,000 last year.

U.S. market solitaire diamond engagement ring average ticket – $10,400 vs $10,400 last year.

Japan market solitaire diamond engagement ring average ticket – $4,100 vs $4,200 last year.

U.S. silver jewelry average ticket – $191 vs $187

Japan silver jewelry average ticket – $221 vs $215
Other strong categories – Besides its collections, designer jewelry, and new merchandise, Tiffany management also noted that colored stone jewelry and precious metals jewelry, primarily gold and silver, generated strong sales gains. Silver charms were a popular item during the 2006 holiday selling season.
New York flagship store sets sales productivity record – During 2006, Tiffany's Fifth Avenue flagship store posted sales of over $6,000 per square foot, according to management. This compares to about $1,000 in sales per square foot for a typical guild-level store (an AGS store, for example). A typical independent specialty jeweler in America generates sales of about $500 per square foot; a typical American chain jeweler such as Zale or Kay generates sales in a range from $800 to $1,100 per square foot.

Tiffany's New York flagship store generates about 9 percent of corporate revenues. During 2006, this single store generated estimated sales of $240 million.
West Coast stores strongest – Four out of five of Tiffany's stores with the highest sales volume are on the West Coast. In order, Tiffany's top five stores, by sales volume, in 2006 were 1) South Coast store in Costa Mesa, California; 2) Chicago; 3) Beverly Hills, California; 4) San Francisco, California; and 5) Las Vegas, Nevada.
New store openings accelerate – During 2006, Tiffany opened a net of five stores in the U.S., with a 4 percent increase in gross square footage. It ended the year with 64 stores in the U.S., up from last year's 59 units.

During 2007, the company plans to open up to seven stores, including announced units in New York (Wall Street area), New Jersey, Massachusetts, a second Las Vegas store, and others. Ongoing, management plans to open five-to-seven new stores annually in the U.S., up from its previous target of three-to-five new stores annually.
Tiffany's online sales growing rapidly – Tiffany's total online orders are up sharply, and the average ticket continues to rise. In 2006, the average online order value was $231 versus the prior year's $221. Online sales are now about four times as large as its catalog sales, though it is unclear how many buyers are pre-shopping the company's catalog and placing their orders online. The company continues to reduce its total catalog mailings.
Advertising spend up – Tiffany increased its advertising expenditures to 6.2 percent of sales in 2006 from 5.7 percent in 2005. The typical independent specialty jeweler spends 4-5 percent of revenues on advertising.
In-house credit is important– Tiffany's accounts receivable grew by 19 percent in 2006 due to a shift by some of its customers to in-house credit from credit cards. Receivables continue to turn at about 18x, down modestly from the prior year's 19x turn. In short, Tiffany is seeing no material deterioration in credit quality among its customers.
Gross margin under pressure – Like most jewelers, Tiffany's gross margin declined during 2006, both for the full year and in the all-important fourth quarter. The company cited three factors which had a detrimental impact on its gross margin: 1) higher precious metals costs; 2) a shift in sales mix toward lower margin merchandise; and 3) an increase in low-margin wholesale diamond sales related to its direct sourcing efforts. While the company boosted retail prices in 2006, those price increases were not sufficient to offset higher merchandise costs.
Other retail operations mixed – Management continues to extol the success of its Iridesse pearl stores. However, management said its Little Switzerland division is under-performing. For the year, Little Switzerland's sales rose by 6 percent, indicating that it marginally lost market share. In addition, while Tiffany does not report profitability by operating division, we believe that Little Switzerland is not nearly as profitable as the company's other retail operations. In fact, some question whether Little Switzerland may be losing money.



International sales strong, except Japan – Virtually every international market generated double digit sales gains for Tiffany, with the exception of Japan. Across all international markets, global sales rose by 11 percent and same-store sales rose by 6 percent, on a constant-exchange basis.

For the year, total sales in Japan were up 4 percent, on a constant-exchange basis, and same-store sales were flat. Stores in the Asia-Pacific region generated a 22 percent sales gain for the year, with units in Hong Kong, Taiwan, and Australia generating above-average sales gains. European sales were up 23 percent for the year, led by Tiffany's stores in London. The company also posted double-digit sales gains in Canada and Mexico. The table below summarizes results for Tiffany's key international markets.



Tiffany & Company
Full Year Sales Results

Source: Company


The company ended the year with 103 owned international locations, up from 95 units at the end of the prior year.
Outlook calls for double-digit sales gains – Tiffany is expecting that total corporate sales in 2007 will be up 11-12 percent, with same-store sales up in the high single digit range for both U.S. and international units. This suggests that sales are likely to be in the range of $2.9-$3.0 billion. Stores in Japan are projected to increase sales by a low single-digit gain, while international markets outside of Japan are expected to post high single digit gains.

Tiffany's operating margins is expected to rise by about 0.5 percent (50 basis points) due to three factors: 1) a more favorable sales mix; 2) strong sales leverage; and, 3) stabilization of commodities costs.

Tiffany's inventory has been rising faster than its sales, a trend which could continue in 2007. Three factors are contributing to rising inventory levels: 1) new stores; 2) a broader product offering; and, 3) deeper assortments. We do not view its rising inventories as a problem for Tiffany.
Two months of first quarter strong – Tiffany management reported that sales for February and March, the first two months of its fiscal quarter ending April, were slightly above plan. In contrast to most other jewelers, Tiffany management said the company had "robust Valentine's sales.