IDEX Online Research: Sell Yourself
April 26, 07
U.S. chain jewelers spend more on advertising, as a percentage of sales, than smaller specialty independent jewelers. Our analysis found the following:
Most major chain jewelers in the U.S. spend at least 5.5 percent of revenues on advertising.

Smaller specialty jewelers spend between 4 and 5 percent of revenues on advertising, after co-op allowances.

Ad spending by major chains is rising rapidly while ad spending by small independents is declining, both as a percentage of sales and in total dollars.

Highly successful jewelry manufacturers and suppliers spend between 15 percent and 20 percent of revenues on advertising.
These advertising expenditure trends may help explain, in part, why chain jewelers are taking market share from the smaller independent specialty jewelers in America.
Specialty Jewelers' Ad Spend About Flat as Percent of Revenues
Although the total dollar amount spent on advertising is up for each of the major chain jewelers, the traditional measure of advertising spend – ad expenditures as a percentage of sales – has remained roughly flat for most of the key retailers and suppliers.
Only Zale has significantly increased its advertising expenditures, both in total dollars and as a percentage of revenues. Unfortunately for Zale, its sales have not responded to the bump in advertising during the most recent fiscal year (ended July 2006). Sterling Jewelers spends about 50 percent more on advertising than Zale, as a percentage of sales – 6.6 percent of sales versus Zale's 4.4 percent – and arguably generates stronger sales gains and higher sales per store as a result.
In a surprise revelation, Tiffany's advertising spend as a percentage of revenues was down in 2005. Management has made no comment about this decline in ad expenditures. However, it has not hurt Tiffany's sales growth materially, in our opinion.
Advertising expenditures by jewelers are about in line with other retail categories – department stores, consumer electronics, other hardlines merchants, etc. – which also spend about 4 to 7 percent of sales on advertising.
Total Jewelry Ad Spend Measured in Dollars Is Up
Despite jewelry advertising expenditures remaining roughly flat as a percentage of sales, total jewelry advertising expenditures have risen sharply for major chain jewelers. As their sales increase, their total advertising also increases in line with their percentage sales gain.
In contrast to rising sales and ad spending of chain jewelers, sales at U.S. independents have remained roughly stagnant. Worse, independents' total advertising expenditures are down, both as a percentage of sales and in total dollars. In 2004, independents spent about 5 percent of sales on advertising; in 2005, 4.7 percent of revenues were devoted to ad spend. An analysis of this spending showed that their total ad spend in dollars is down almost 4 percent year-over-year.
The graph below illustrates the increase (or decrease) in advertising expenditures between 2005 and 2004 for major U.S. jewelry retailers, suppliers, and independents.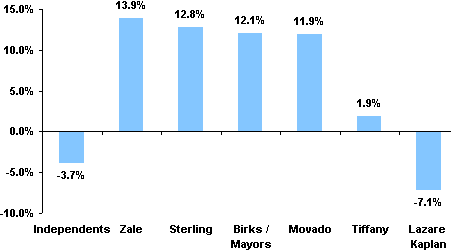 Source: Company Reports
Most Jewelry Ads Appear in Magazines
Four out of five dollars spent on jewelry advertising end up in magazines, according to a study by Time Inc. About 10 percent of the total spending in the jewelry category is for television advertising – mostly by mass market jewelers such as Zale, Kay, Finlay, and others.
The graph on the right summarizes jewelry advertising expenditures by media.
Luxury Goods Suppliers Spend Heavily on Advertising
Most luxury goods suppliers spend 15 to 20 percent of revenues on advertising. Movado, a supplier of timepieces, spends a steady 16 percent of revenues on advertising and marketing. Movado's advertising consists largely of high profile magazine ads-which appear to be very effective, based on its recent sales trends.
In contrast, Lazare Kaplan, which has been struggling in the U.S. market, spends less than 2 percent of polished diamond revenues on advertising, according to its legal filings. This appears to be an ineffective level, given that Lazare Kaplan's polished diamond sales declined in 2005. According to management, polished diamond sales were down due to lower sales of branded diamonds, including the Lazare ideal cut diamond; this was partially offset by increased sales of fine cut non-branded commercial diamonds.