IDEX Online Research: 2007 Holiday Selling Season: Lessons Learned and Fall-Out
February 13, 08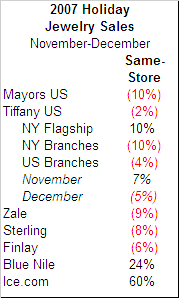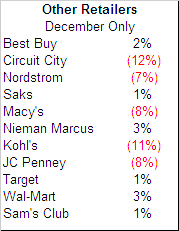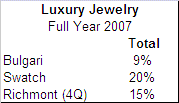 Source: Company Reports
The 2007 Holiday Selling Season was tough for U.S. jewelers. November jewelry sales were weak, and December was worse for most jewelers. While the final numbers won't be reported by the government for another month, IDEX Online Research estimates about $19.6 billion of jewelry was sold in November and December in the U.S., of which specialty jewelers sold about $9.5 billion, or just under half of all jewelry sold. That is slightly more than last year, and the increase was due entirely to price inflation. The tables at right summarize same-store sales results for major jewelers and other selected retailers.
Now that the jingle of the cash register has quieted, it is time to reflect on the season to see what lessons were learned. More importantly, perhaps, it is time to analyze the fall-out from the disappointing selling period.
IDEX Online Research identified several major trends which affected sales, including the following.
Consumers Are Fickle – Just because shoppers liked certain jewelry merchandise in September, October, and November, there is no reason to believe that they will like the same goods in December.

That's one of the major lessons from the 2007 Holiday Selling Season.

For example, Journey Diamonds had been showing promise throughout the Summer and Fall of 2007, but apparently demand softened for this concept late in the Holiday Selling Season.
High-Income Consumers Cut Back – Some jewelers said that "old wealth" shoppers continued to spend, but consumers in the "new wealth" category cut back significantly. In 1990, only 10 percent of all households had annual income above $100,000; today about 18 percent of all households have annual income above $100,000. Unlike "old wealth" households who historically continue to spend despite economic and stock market cycles, "new wealth" households – who represent nearly half of all high-income households today – have cut back their spending for a variety of reasons. Even Tiffany felt the cut-back; its sales of merchandise priced above $50,000 were softer than expected. The company's two strongest price point ranges were fine jewelry priced $10,000 to $50,000 and silver jewelry priced $500 to $1,000.
Fashion, fashion, fashion – Consumers appear to want a dazzling fashion "look". Unfortunately, jewelers' core merchandise, such as a one-carat diamond pendant, apparently does not fill that need in today's market. Over and over, we heard that shoppers wanted flash, color, and "something different." Jewelry with mixed metals and colored gemstones appeared to gain market share. Even Lazare Kaplan, best known for its ideal cut Lazare diamonds, acknowledged that it is stepping up development of diamond fashion jewelry in response to market demand.
Brands and designer names were strong – Consumers want their jewelry branded, just as they want other accessible luxury fashion goods to be branded. Burberry, Coach, Louis Vuitton, and other branded "luxury" fashion goods are readily identifiable. A brand or a designer name on jewelry differentiates it in consumers' minds. Jewelers who understand the power of branding have been able to convince shoppers that brands like Hearts On Fire diamonds have a higher "wow" factor than other ideal cut diamonds. Even Lazare Kaplan reported a mix shift toward its branded Lazare ideal cut diamond, with less growth in its commodity diamonds. Tiffany mentioned that demand was strong for designer goods.
Custom and estate jewelry were surprisingly strong – Custom jewelry and estate jewelry are only a tiny portion of a typical jewelers' sales mix, but several jewelers mentioned that demand was strong for these categories. Why? They represent something unique.
Commodity diamonds were softer than expected – Despite swings in fashion trends, most jewelers can count on some fundamental demand for commodity diamonds. While diamond studs, pendants, and rings sold this year, they didn't have the sales momentum of past holiday selling periods. Some jewelers suggested that shoppers may have grown tired of commodity diamonds; consumers appear to want fashion and flash, rather than just a single diamond. Tiffany noted that Statement Diamond sales were flat; unit sales were up, but the average ticket dropped. Lazare Kaplan says it is limiting production of smaller diamonds due to soft demand.
Consumer electronics took market share – It is hard to tell from the reported sales results of Best Buy and Circuit City, but consumers opted for flashy fun consumer electronics priced in the $200-500 range this year. IDEX Online Research compared promotional circulars from key consumer electronics retailers to circulars from leading mass market jewelers; key price points significantly overlapped. When faced with a tighter budget, the decision to choose either a fun, flashy GPS unit versus a flashy diamond was easy: shoppers went for the fun. Because of severe price deflation in the consumer electronics industry, reported sales from consumer electronics retailers such as Circuit City did not reflect the dramatic growth in unit volume. In fact, prices of many consumer electronics gadgets have dropped substantially over the past year; that made them appear to be even more of a value to shoppers.
Reliance on credit didn't help – Jewelers' consumer credit providers were especially tough in the 2007 holiday season. Not only were more credit applications rejected, but credit card declines were up. Credit is an important sales tool for jewelers, since about half of the industry's sales are made on some type of proprietary credit monthly payment plan (this does not include sales on traditional credit cards such as Visa, American Express, and others).
Sales weakened as the season progressed – For the past two years, November jewelry sales have been stronger than December jewelry sales. Those merchants who targeted consumers early in the season posted stronger results than those who waited to begin advertising later in the season. By December, consumers were out of money, out of time, and out of energy, and no deal was enticing enough to motivate them to fight mall crowds.
Average jewelry ticket was up, but shoppers and transactions down – A decline in shopper traffic hurt sales during the 2007 Holiday Selling Season. Those jewelers who were successful were able to convert more browsers to buyers as well as raise the average ticket. The lesson: increase sales training, and don't let any customer walk out empty-handed.
Online retailers took market share – It is no surprise that online jewelers posted strong results. They offer both less expensive prices and a less-grueling shopping experience. Ice.com's sales were up 60 percent in the fourth quarter, and Blue Nile's revenues advanced by 24 percent in the three-month period ended December 2007.
Consumer attitudes affected demand for "feel-good" products – In an unusual twist, some American shoppers didn't follow the old adage: when the going gets tough, the tough go shopping. Historically, feel-good products such as jewelry remain on shoppers' gift lists. But, even cosmetic plastic surgeons – the ultimate purveyors of feel-good services – report that demand for their services has begun to suffer. If shoppers don't care how they look, they aren't going to buy jewelry. Mentally, U.S. shoppers are already in a recession. But, we predict that this trend will be short-lived, though it is very real, based on the numbers.
Margins remained fairly steady – Since no amount of price-based promotions could drag customers into jewelry stores, many jewelers simply stopped playing the old game of pricing roulette called "let's make a deal." So, discounts were minimized. Further, a sales mix shift toward fashion jewelry, which carries an inherently higher margin, helped jewelers maintain their margins. However, higher precious metals costs may have hurt some jewelers' margins, though the full impact of these higher costs won't be felt until early 2008, when these jewelers begin to rebuild their inventory of sold merchandise.
Fall-Out From A Weak Holiday Selling Season
While the 2007 Holiday Selling Season was disappointing, it was not a disaster. The final numbers are not yet in, but November jewelry sales were up by about 3 percent in the U.S. December numbers could be about flat, with a range of down 3 percent to up 2 percent, in our opinion.
The problem is that these holiday sales results have been distorted by inflation. For most of the past decade, jewelry prices have fallen by 1-3 percent in the November-December period. In 2007, jewelry prices at retail rose by over 4 percent. This means that jewelers sold fewer pieces of jewelry than the sales numbers indicate. For example, if a jeweler reported the same level of sales in 2007 as in 2006, measured by "dollars through the cash register," that jeweler sold 4 percent fewer items in 2007 than 2006. In prior years, price inflation and deflation was not meaningful, and no one paid attention to it. Here's what the impact of inflation means:
Jewelers must take their 2007 sales results and subtract inflation – about 4 percent -- from their numbers to get "real unit sales."
Jewelers probably have more goods in their inventory than they should, even if they reported reasonable sales results, because they didn't sell as many units of jewelry.
What is the fall-out from a weak holiday selling season?
Jewelers are over-inventoried. As a result...

Jewelers don't have as much open-to-buy for new goods. This could be a disaster, because if they don't bring new merchandise into their stores, there will be nothing exciting to entice loyal shoppers.

Jewelers will be sending goods back to suppliers. Suppliers are already stretched – debt levels are high and margins are low. This could be enough to put some suppliers out of business.
Suppliers will make unbelievable deals available to jewelers. As a result...
Jewelers will be offered more memo goods than they have ever been offered in the recent past.

Jewelers will be offered big discounts for early payment.
Industry consolidation will accelerate. As a result...
By late 2008 and early 2009, we expect to see an acceleration of "going-out-of-business" sales among jewelers. Last year, a net of only about 350 jewelers closed their stores in the U.S. (252 new openings versus 601 closings, according to the Jewelers Board of Trade). We believe net closings will at least double to near 700 annually by 2009, a level which was reached during the economic slowdown of 2001.
Pressures on suppliers will become unbearable. Not only will we see an acceleration in supplier and manufacturing bankruptcies, but those remaining will shift more of their operations overseas to locations with low labor costs.