Observations from the Third Rough Diamond Conference
February 14, 08
The Third International Rough Diamond Conference that took place in Tel Aviv provided an interesting glimpse into the thoughts, plans and figures held by a number of the industry's key players, expressed onstage and on the sidelines.
Generic Advertising & Graphs
Two issues stood out very clearly. The first, a call for more companies to participate in generic advertising. In the past, De Beers took it upon itself to promote diamonds among consumers with its hugely successful "A Diamond is Forever" campaign. However, with its shrinking market share, De Beers wants to see more stakeholders pitch in.
IDMA President Jeff Fischer publicly apologized to De Beers MD Gareth Penny for rejecting his previous call for wider participation in generic advertising. Penny called for it this week again, as did many others, including IDI President Moti Ganz who suggested that producing countries put up 3 percent towards advertising, as did Lev Leviev. We'll get back to Leviev in a minute.
Off the record, officials of a few of the represented African counties said that it won't happen, yet admitted that if one of their neighboring countries will do it, they will probably join.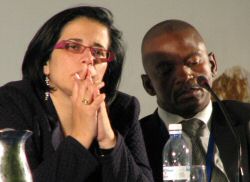 DTC MD Varda Shine (l.) and SA
Diamond Regulator Louis Selekane
The second issue kept cropping up to an almost comic extent. Many speakers, including Penny, Martin Rapaport and Charles showed a graph forecasting rough availability to decrease moderately over the next ten years while demand grows steadily over the same period (Wyndham claims to be the originator of the graph). DTC MD Varda Shine referred to it a number of times, saying that demand is growing at an average compounded rate of 4.5 percent.
From a manufacturer's point of view, this means it will be more difficult to get the goods (and at a higher cost), but that they could probably realize higher prices on polished diamond sales. Same goes for the retailers, especially if they'll heed Shine's plea that discounting in diamond jewelry, especially at the onset of the holiday season, is damaging. Avoiding retailers' discounts is also needed in order to push stocks down the pipeline.
Shine also revealed that while Kroll is checking all new Sightholders, only a representative sample of the continuing Sightholders are checked. As IDEX Online disclosed recently, a number of findings were already brought to the DTC's attention by Kroll that will require further investigations, if they have not started already. You can only wonder if the final Sightholders list won't be shorter then planned.
On the issue of advertising, Shine said that they have in fact spent more last year, rather then less.
Leviev Wants You Under His Thumb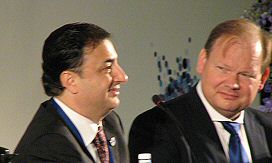 LLD's Leviev (l.) and ABN Amro's van
der Kwast
Back to Leviev – after all his criticism of De Beers, is he actually interested in forming a stricter and darker version than it ever was? He said that what killed manufacturers margins was competition and concluded that competition should be eliminated. He gave as an example second and third tier polishers to whom he outsources work.
This means that in Leviev's ideal world, few and very big companies will control all manufacturing by deciding who gets what rough, how much of it, and he will outsource it to them on a cost plus basis! An Israeli diamantaire told me after the speech that Leviev is great. He didn't see how such a scenario would send him on an early retirement.
Is There a Future for Futures?
A point of contention in the diamond industry is that of a futures market. Ganz and Fischer are against it. Rapaport is in favor. Victor van der Kwast, ABN AMRO's new CEO of the International Diamond and Jewelry Group is also in favor, promoting it as a new source of financing for the industry.
Other Comments
While on the topic, van der Kwast criticized a certain disproportion in diamond financing, saying it "will be challenged."
"I guess some of the financing is diverted outside the diamond industry," - Gareth Penny on bank debt that continued to rise in 2007 despite a decline in diamond stocks.
"The prices of our rough is rising, we will be profitable this year," – Adonis Pouroulis, Petra
"There is at least one more world-class diamond mine in Canada," – George Read, Shore Gold
"We need to find a common ground, because we share a common interest," – Eli Izhakoff, WDC
"Diamond prices don't matter, profits do. Buy low, sell high, buy a Mercedes, have a good life," – Martin Rapaport
"We may be selling a small product, but we cannot be small in thinking (on promoting the industry)," – Jeff Fischer
"This is as short as I can do it," – Sergey Vybornov, Alrosa, after finishing a 3-minute presentation.