IDEX Online Research: Harry Winston's U.S. Retail Sales Down 60% in Q4
April 13, 09
Retail sales at Harry Winston's eight stores in the U.S. market were down 60 percent in the fourth quarter ended January 2009, according to a detailed analysis of the company's financial results. U.S. sales in the fourth quarter dropped to $18.8 million from the prior year's $46.5 million.
In the current recession, Harry Winston's retail sales results confirm that the higher up the luxury scale jewelers are, the more they have suffered. For example, Tiffany posted a fourth quarter sales decline of 29 percent in stores in its U.S. division, including a 33 percent same-store sales decline. Birks & Mayors experienced a 28 percent decline in same-store sales among its U.S. units. In contrast, mass market operator Sterling Jewelers posted a 14 percent decline in total sales and a 16 percent decline in same-store sales in the fourth quarter.
For the full year, U.S. retail sales in Harry Winston's eight stores were down 16 percent. Sales in its two Europe stores were up 44 percent, and sales in its eight Asian stores (five in Japan and three elsewhere in Asia including Beijing, Taipei, and Hong Kong) were down 3 percent for the full fiscal year ended January 2009.
Retail sales in all of Harry Winston's eighteen stores worldwide fell by 21 percent in the fourth quarter, and were up a modest 6 percent for the full year. Because of these disappointing sales levels, its operating loss widened in both the fourth quarter and for the full year.
Typically, jewelers make a profit in the fourth quarter, even if they don't make money for the full year. However, Harry Winston was unable to post a profit in its fourth quarter, even before taking one-time write-offs.
Even worse, Harry Winston (retail division) has posted a profit in only two of five fiscal years since it was acquired by Aber Diamond (the company's original name, prior to changing it to Harry Winston Diamonds) in March 2004. The Harry Winston retail stores generated a profit for the fiscal years ended January 2005 and January 2006, and have lost money for the past three years on an operating basis. This year, with operating losses looming large, the company took an impairment charge of more than $93 million. With the prospect of large losses, companies often take unusual charges in those years just to "clear the decks" of embedded costs and over-valued assets.
The table below summarizes Harry Winston's fourth quarter financial results for its retail division. As the table illustrates, U.S. sales were 28 percent of the retail division's $67.3 million in sales, and were down 60 percent from the prior year.
Further, as the table illustrates, sales in Harry Winston's two European stores – Paris and London – were up 77 percent to $30.9 million from the prior year's $17.3 million, a number that management did not explain. Finally, its eight stores in Asia, including Japan, saw sales drop by 16 percent to $17.6 million from the prior year's $21.0 million.
Retail Division Increases in Importance
During the fiscal year ended January 2009, the retail division – 18 stores – contributed 46 percent of revenues to the corporate entity of Harry Winston Diamonds, while the mining division contributed 54 percent of revenues. Historically, the retail division has contributed between 38 percent and 40 percent of corporate revenues in the past few years. However, as the rough diamond market softened in 2008, the mining operation's contribution diminished. The graph below summarizes revenue contribution for the company's two operating divisions.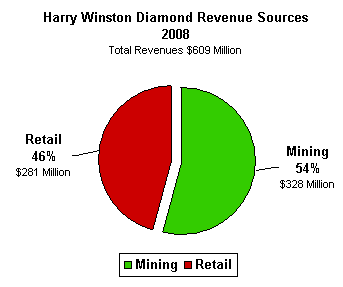 Source: Company reports
The table below summarizes financial results for Harry Winston's retail division for the full fiscal year ended January 2009. Financials through early September were promising for Harry Winston, but conditions deteriorated rapidly beginning in mid-September and never recovered through the all-important holiday selling season. Segment profits do not include unusual costs such as the impairment charge of $93 million.
Here are highlights from Harry Winston's fourth quarter and full year results for its retail division.
Management noted that financial results for the first two quarters of 2008 were strong. Sales were up 23 percent, and the retail division had posted an operating profit for the first half of the year, after a very strong second quarter. However, in mid-September, sales and earnings tumbled, and there was no recovery.
On an annual basis, sales increased by 50 percent among its Middle East, Russian, and Asian customers. Sales to Japanese customers fell by 2 percent, and sales to U.S. based clients dropped by 18 percent for the full year.

The graph below illustrates the changes in the relative importance of Harry Winston's retail division by major global region for both the most recent fiscal year and the prior fiscal year.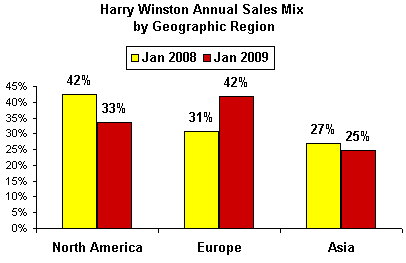 Source: Company reports
Harry Winston's retail store sales volume in the fourth quarter is heavily dependent on gift purchases, which tend to be at the lower end of its price range. Historically, gift purchases occur in the retail price range below $100,000. For the full year, Harry Winston booked a 4 percent decline in sales of goods priced below $100,000 retail.

In the price segment of goods priced above $650,000 retail, sales nearly doubled for the full year.

In goods priced above $850,000, sales were up 7 percent for the year.

The largest sales decline came in goods priced $250,000 to $650,000, where revenues fell by 13 percent for the year.
During the fiscal year just ended, the company ended the year with 18 units, flat with the prior year. It opened a new store in California, while closing another unit, for a net addition of zero units.
In 2009, a new store is planned for Singapore; it is slated to open this summer. The company is also seeking other opportunities in Asia, a market it considers immature for its merchandise.
Like most jewelers, Harry Winston tightened its belt. It cut costs, released roughly 40 employees, gave no salary increases, restricted travel, and reduced its capital expenditure program. Further, it cut its open-to-buy budget significantly.
Harry Winston management confirmed that it had a successful show in Basel, where it markets its watches as a wholesaler. Management said "the mood [at Basel] was discernibly upbeat" and that its accounts had confirmed their orders and placed orders for new goods that bode well for the second half of 2009. Management noted that it confirms more than 80 percent of its orders for Harry Winston branded watches at the Basel show.
Management said it was particularly interested in the market potential of China. It has one company-owned store in Beijing, and it has a distributor-operated watch boutique in Shanghai. It is seeking opportunities to open retail distribution in China.
While Harry Winston management did not give a forecast, it noted that it had seen a "firming" of prices in the rough diamond market, and it had seen the same trends among the polished diamonds that it purchases (we can assume that these are the largest, highest quality diamonds in the market). It noted that polished diamond prices were down 15-20 percent in its segment, and that rough diamond prices had fallen by 40-50 percent from their peaks, but have begun to recover. Management speculated that the production cuts at the mining level have been more severe than the uptake at the retail end of the pipeline; hence, this likely explains the firming diamond prices that management sees.
Harry Winston noted that it is experiencing four factors which are pressuring its gross margin:
A lower proportion of higher-margin sales in the Japanese market

More high-value transactions which carry an inherently lower margin

Increased research and development costs related to its watch business