De Beers Launches New Season Marketing Campaign
September 02, 09
De Beers on Wednesday provided a first glimpse into their fourth quarter marketing campaign, called Everlon Diamond Knot Collection. Like the Journey campaign of 2006, the Everlon comprises of a background story and a design. The "big new diamond jewelry idea" aims to raise demand for diamond jewelry during the crucial holiday sales season, mostly in the U.S.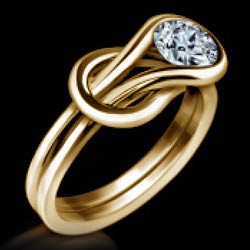 An Everlon Diamond Knot ring by
JR Dunn Jewelers
Launched jointly with four Diamond Trading Company (DTC) Sightholders, the Everlon is based on the proposition that the only thing stronger than a diamond is love. The Everlon Diamond Knot is based on the Hercules knot, secured by a diamond at its centre. "It is a tribute to the enduring strength of love - without the diamond, the knot would unravel," De Beers said in a release.
De Beers expressed hope that the campaign will create buzz and excitement for the entire diamond industry, especially for participating Everlon retailers.
According to a recent De Beers survey of American consumers, 61 percent of females and 58 percent of males expressed interest in acquiring an Everlon piece. These findings met or exceeded benchmarks set by past best-selling diamond jewelry concepts, including the 3-stone (Past, Present, Future) and Journey concepts.
According to the diamond firm, Everlon provides a platform for trade wishing to pool funds to create a more compelling program than could be achieved individually.
De Beers created the Everlon name, logo and the central jewelry collection. Ad agency JWT developed the creative materials to be used in the campaign, including a website, print ads and a high-production value TV commercial.
Participating Sightholders and retailers are creating their own interpretations of the jewelry designs.
TV commercials will start airing in November, driving consumers to adiamondisforever.com. Cooperative versions of the Everlon TV commercial will run in November and December, tagged by retailer participants. The communications plan will include print advertising from September as well as online initiatives and extensive PR support.
Participating Sightholders include Elegant Collection/Jasani, JBDM, Pluczenik and Rosy Blue. Participating retailers include Ben Bridge, Fred Meyer, Helzberg, JCPenney, Macy's, Reed's, Riddles, Sam's Club, Samuels/Rogers, Zale Corp. and a number of independent retailers.