Belgium Posts Increase in Import/Export of Rough Diamonds
January 17, 10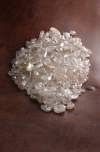 Belgium imported
6.57 million carats
of rough in December
Belgium's rough diamond exports rose last month by 264 percent compared to December 2008, having exported 11.96 million carats worth $851.7 million, a 176.5 percent increase, according to figures released by the Antwerp World Diamond Centre (AWDC).
Rough exports declined by 16.5 percent to 96.5 million carats, and by 31 percent to $7.4 billion, in 2009.
Belgium imported 6.57 million carats of rough goods in December with a value of $483.8 million, a 46.1 percent and 100.3 percent increase compared to last year. Rough diamond imports by Belgium decreased by 22.9 percent to 85.6 million carats, and by 39.2 percent to $6.37 billion, during 2009.