IDEX Online Research: Polished Diamond Prices Up Significantly in February
March 03, 10
Polished diamond prices rose a sharp 2.3 percent in February, according to the IDEX Online Global Polished Price Index. There are three key factors pushing polished diamond prices higher: rough diamond prices are rising; the global economic recovery has begun, led by exceptional strength in the U.S., the largest market for diamonds; and anticipation of re-stocking in the diamond pipeline, especially at the retail level.
· The IDEX Online Polished Diamond Price Index averaged 112.6 during February 2010, up over 2 percent from the average of 110.1 for January. This was the third consecutive month that polished diamond prices have risen, after languishing for most of 2009 at around 108.
· The IDEX Online Polished Price Index started the month at 111.4 and ended the month at 113.2. It showed steady gains throughout the month.
The graph below illustrates the IDEX Online Polished Price Index over the past two years.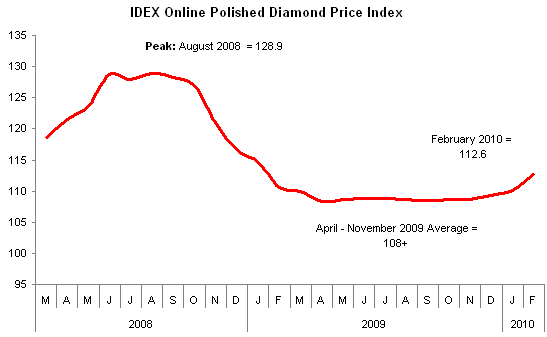 Source: IDEX Online
U.S. Economy & Diamond Prices Moving Together
After sluggishness during most of 2008 and early 2009, the global economy has begun to show signs of a recovery. In particular, the U.S. economy posted a dramatic 5.9 percent growth in the fourth quarter of 2009, after generating a solid 2.2 percent gain in the third quarter of that year. Historically, jewelry demand and GDP move together.

Because U.S. consumers purchase roughly half of the world's diamonds and diamond jewelry, a strengthening economy in America is good news for the diamond industry. Polished diamond prices have begun to brighten as a result of prospects that shoppers will loosen their purse strings and head to their neighborhood jewelers to buy diamonds, diamond jewelry and other jewelry accessories.
Further, economies in other diamond-consuming nations have also begun to stir from their doldrums of the past two years. Thus, there is an expectation that diamond demand will pick up globally during 2010.
Within the diamond industry, rough diamond prices have been rising for the past two years, despite weak demand downstream in the diamond pipeline. In 2009, rough diamond prices were up by perhaps 13-15 percent, but were highly volatile. So far in 2010, rough diamond prices are up about 15 percent, after only two DTC Sights. Clearly, higher rough diamond prices are putting pressure on polished diamond producers.
Monthly Diamond Price Improvement Extended Across All Stones
While shoppers did not stop buying jewelry during the recession of 2008-2009, they were more value-conscious. They bought "down" – that is, they purchased smaller, lower-quality stones. Now, however, it appears that diamond demand may be reverting to historic norms. As the graph below illustrates, monthly prices rose across all diamond sizes, though some sizes experienced greater price appreciation that others.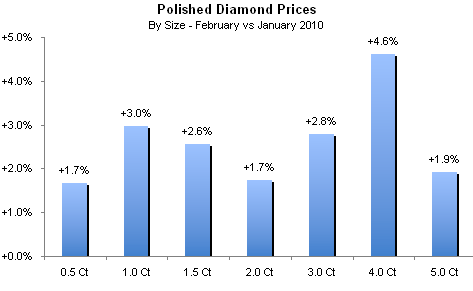 Source: IDEX Online
Outlook: Polished Diamond Prices Will Continue to Rise
After falling for the past year and a half, polished diamond prices are on the rise. It is likely that polished diamond prices will show a substantial increase in 2010, as demand recovers from the so-called Great Recession of 2008-2009. It is possible that prices could climb by double-digit levels for the full year.
Click here for additional details and full analysis on February 2010 polished diamond prices.