Fortunoff to Re-Launch With Online E-Commerce Site
August 11, 10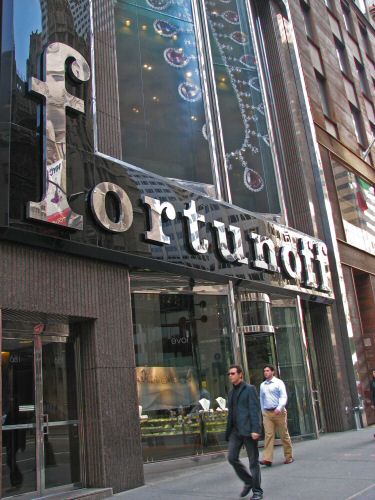 The now closed Fortunoff store on 5th Ave, NYC
The Fortunoff brand is attempting a come back, announcing the upcoming launch of an e-commerce website and plans to open a number of stores in the Tri-State area.
Fortunoff Brands LLC, a holding company that purchased in July 2009 all of Fortunoff's intellectual property, reached a licensing agreement with Four Leaf Designs, for fine jewelry products in the U.S. and online.
Four Leaf Designs is a new partnership between Esther Fortunoff and David Fortunoff, and Lester Friedlander and Shaun Apgar, the principals of Clover II, a jewelry wholesaler and the owners of Robert Lee Morris Inc.
Four Leaf Designs intends to launch the e-commerce site as early as this fall, and concentrate on stores next year, the company announced. New stores are expected to be in the same markets though not necessarily the same locations as the previous stores.
Fortunoff Brands purchased all of the intellectual property of Fortunoff, including the brand name and related trademarks, customer lists, domain names, and all copyrighted material. It is owned by The Fortunoff and Mayrock families, who owned and operated Fortunoff for four generations.
Fortunoff Holdings, LLC filled for Chapter 11 bankruptcy protection in February 2009. According to court filings, it owed the industry over $6 million.