Another Super Size White Diamond Recovered in Lesotho
September 07, 10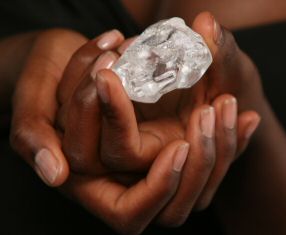 New 196-carat rough diamond joins previous
exceptional diamonds, such as the 603-carat
Lesotho Promise (above), mined at Letseng
A 196 carat white diamond was mined by Gem Diamonds at the Letseng mine in Lesotho. The large high quality diamond joins a long list of exceptional diamonds recovered at the remote mine.
Unearthed on August 24, the rough diamond is expected to achieve a substantial price per carat. Preliminary examinations indicate that it is expected to produce top color and top clarity polished diamonds, the company said in a release.
Since Gem Diamonds' acquisition of the Letseng mine in mid 2006, it has produced three of the world's twenty largest recorded diamonds, the 603 carat Lesotho Promise that sold for $12.4 million; the 493 carat Letseng Legacy that sold for $10.4 million; and the 478 carat Light of Letseng that fetched $18.4 million.