India Imports a Net of $600 Million of Rough Diamonds in August
September 26, 10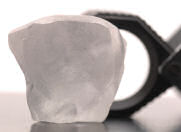 The cost of India's rough
increased 257% year-over-year

(

IDEX Online

News)
- India imported 8.03 million carats of rough diamonds worth $689.7 million in August, a 21.6 percent growth in volume and 52.9 percent in value, according to provisional data released Sunday by the Gem & Jewellery Export Promotion Council (GJEPC).
The large rough diamond imports continued a trend of increasing imports by the country's diamond traders. In the current fiscal year, India imported $4.74 billion worth of rough diamonds with a total weight of 66.7 million carats, rising 46.7 percent in value compared to the April-August period of 2009. In volume, the increase is 27.4 percent.
The average value of imports in August, $85.89 per carat, is a 25.7 percent increase from the $68.33 p/c average value in imports a year ago, reflecting rising rough diamond prices.
India imported goods from the UK (De Beers), Belgium, Russia and Australia, but also from Zimbabwe.
Exports in August totaled $90.1 million on shipments of 2.7 million carats, averaging $33.86 p/c.
India's net imports were therefore 5.4 million carats worth $599.6 million averaging $111.68 p/c.