India's Polished Diamond Exports Continued to Rise
September 26, 10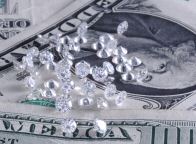 The average value of India's
net polished diamond exports
has declined 13.1% to $235.25 p/c

(

IDEX Online

News)
- India's gross polished diamond exports soared 65.2 percent to $2.3 billion, according to provisional data released Sunday by the Gem & Jewellery Export Promotion Council (
GJEPC
). In volume, exports swelled 30.7 percent to 6 million carats.
Polished diamond imports during the period totaled $1.36 billion on shipments of 10 million carats.
Net exports of polished were therefore 4 million carats worth $941 million, at $235.25 per carat. In August 2009, India's net polished diamond exports totaled $484.5 million on net shipments of 1.79 million carats averaging $270.67 p/c.
This translates to a 94.2 percent increase in net exports by value and a 123.5 percent leap in exports by volume. The average value of exports however declined 13.1 percent.