Israeli Caught Smuggling Zimbabwean Goods, Exchange: 'Considering Expulsion'
December 26, 10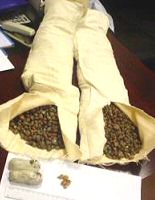 Diamonds from Zimbabwe
are often smuggled out.
The goods above were
caught in Dubai in 2008

(IDEX Online News)
- A member of the Israel Diamond Exchange was arrested Wednesday in suspicion of being involved in an attempt to smuggle $160,000 worth of rough diamonds from Zimbabwe into the country. According to IDE President Avi Paz, the member will face expulsion from the Exchange "if found that he is involved."
The diamonds, which were not accompanied by Kimberley Process (KP) certificates as required by law and international treaties, were most likely from Zimbabwe's Marange region and are therefore banned for exports.
The courier was picked at random by custom officials as he was about to exit Ben Gurion Airport. After his arrest, the man disclosed the origins of the goods and the identity of the person he brought the diamonds for. The IDE member was quickly arrested too.
The two men were later released on bail, apparently after they both confessed to the facts of the case.
The IDE presidency held an emergency meeting on Thursday to discuss the case with its legal advisor. "We asked the police if we can act without fear of disruption of police proceedings," Paz told IDEX Online.
Paz, who also serves as the President of the World Federation of Diamond Bourses (WFDB), made firm statements in the past that anyone caught in illicit diamond trade will be expelled from the Exchange. "We need to remember that these are still suspicions, but yes, he will be expelled from the Exchange if found involved," Paz confirmed.
The IDE Presidency is scheduled to meet again on Sunday to further discuss the case.