IDEX Online Research: Jewelry Price Inflation Ramps Up In November
December 28, 10
(IDEX Online News) - Both retail and wholesale jewelry price inflation rose in November, based on the latest price inflation data from the U.S. government's Bureau of Labor Statistics. After a pause in October, suppliers' wholesale prices resumed their double-digit inflation rate, similar to the level they posted earlier this year. And, for once, retailers passed along some of those price increases to consumers
Sharply higher gold prices have begun to work their way through the jewelry distribution chain, causing jewelry prices to rise. However, we have also seen prices of other commodities rise, along with higher labor costs.
Several major retail jewelers, including Tiffany and Sterling, have said they implemented price increases this year, some as recent as the third quarter. Further, virtually all of the jewelers in our sample indicated that they plan to review their retail prices at the beginning of 2011.
IDEX Online Research believes that the moderation of jewelry price inflation during October reflected the underlying softness of jewelry demand in August and September. However, jewelry demand rebounded solidly in October, and both retailers and suppliers felt emboldened enough to raise their prices in November.
Here are the highlights of the U.S. government's price inflation report for the month of November 2010:
· Retail jewelry and watch prices rose by 3.4 percent in November, well above last year's average of 1.8 percent gain for the full year, and well above the 1.8 percent inflation rate for 2010 year-to-date.

Retail prices of watches rose at a miniscule 0.1 percent in November. Retail prices of watches have been weak all year, and have fallen nine out of eleven months year-to-date 2010.
· Jewelry suppliers' prices rose by 10.3 percent in November, far above last year's average of +3.3 percent and above the 2010 year-to-date inflation rate of 9.4 percent.
Wholesale Prices Continue to Rise Faster Than Retail Jewelry Prices
For the past year, jewelry suppliers' prices have been rising steadily and sharply, but jewelry prices at the retail level have generally shown little inflation. This has caused a margin squeeze, particularly among retailers. In August and September, retail jewelry prices finally begun to reflect the higher-cost goods that retailers are receiving from suppliers. However, in October, retail price inflation moderated significantly, as jewelers did not pass along higher wholesale prices to their customers. In November, retail jewelry prices rose by the second largest monthly gain this year.
The graph below summarizes both the Jewelry Consumer Price Index (green bars) versus the Jewelry Producer Price Index (red bars).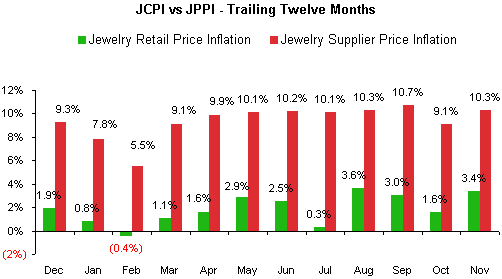 Source: BLS
At the wholesale level, a large portion of the industry's price inflation pressure is coming from higher precious metals prices. Gold has sold for as high as $1,400 per ounce, and could be headed higher, according to some forecasters.
Platinum has averaged between $1,500 and $1,700 per ounce for most of 2010. While this range is below the levels of just over $2,000 that were experienced in 2008, today's prices are still well above historic platinum price levels over the past decade.
The table below summarizes the JPPI and JCPI and their major components for November 2010 as compared to the same month a year ago.
Inflation Index

% Chg November 2010

vs November 2009

Jewelry Producer Price Index

+10.3%

-JPPI Precious Metals

+10.2%

-JPPI Watches

+0.6%

Jewelry Consumer Price Index

+3.4%

-JCPI Jewelry

+3.9%

-JCPI Watches

+0.1%
The IDEX Online Research outlook for jewelry price inflation: retail and supplier prices are headed higher. As the global economy recovers, demand for precious metals for all producer and consumer sectors will increase. Further, though demand is choppy, there are already signs that consumers are returning to their former buying habits for discretionary goods, including jewelry. This means that demand will increase, and price increases will inevitably follow.
The full analysis of the jewelry prices at the producer level and the consumer level in the U.S. is available to IDEX Online Research subscribers and IDEX Online members here. Click here for more information on how to subscribe or become a member.