Alrosa Board Fires VP Oulin, Approves 2011 Targets
December 30, 10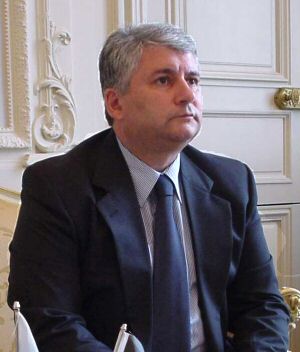 Former Alrosa VP Sergey Oulin
(IDEX Online News) - Alrosa's Supervisory Board announced the dismissal of its long-time vice president, Sergey Oulin. Oulin, the face of Alrosa for many in the diamond industry, was 'relieved' from the company's executive committee following the termination of his employment contract, the company said.
The announcement was a brief mention at the end of a company press release reporting the approval of the company's consolidated budget for 2011. The executive changes and annual figures were approved at a Tuesday meeting of the board in Moscow.
The shakeup at the top of the company includes Vice President Yuri Ionov and former Chief of Engineering Alexander Efimov. Oulin's replacement was not announced. Andrey Pismenny is the new chief engineer.
The board meeting, headed by Vice Chairman of the Russian Federal Government and Minister of Finance of the Russian Federation Alexey Kudrin, approved the 2011 mining target of 34.438 million carats, aiming for total group sales of $3.526 billion.
The company is targeting $160 million in polished diamond sales. The cost of sales is projected at $2.07 billion. The consolidated exploration budget is set at $120.3 million.
Alrosa is expecting a net profit of $345.6 million for 2011.
Ahead of the on again, off again IPO, the board also approved draft amendments to the company's charter and endorsed a set of measures to complete the conversion of Alrosa into an open joint stock company.