IDEX Online Research: Gap Closes Between Retail and Producer Price Inflation
February 09, 11
(IDEX Online) - The margin squeeze at the retail level abated for jewelers in December. Retail jewelry prices rose much more than expected, and producer price inflation eased modestly, which was also unexpected.
Earlier in the year, jewelry suppliers' prices were leaping ahead by double-digit levels month-after-month, while retail jewelers were able to edge prices up by very low single-digit levels. In December, the gap between supplier prices and retail prices closed notably, based on data just released from the U.S. Department of Commerce.
December

Price Inflation

December 2010 vs December 2009

Jewelry Producer Prices

+8.5%

Jewelry Retail Prices

+5.4%
However, for the full year, there was a large disparity between jewelry price inflation at the retail level versus jewelry price inflation at the supplier level, based on new data from the U.S. Department of Commerce.
Full Year

Price Inflation

Full Year2010

vs 2009

Jewelry Producer Prices

+9.3%

Jewelry Retail Prices

+2.1%
We continue to believe that the disparity between retail jewelry price inflation and supplier jewelry price inflation is unsustainable. While the gap did not close completely in December, it narrowed significantly, a trend that is likely to continue into 2011. Why? Retailers' holiday jewelry sales were much stronger than expected; thus, they are emboldened to raise jewelry prices in their stores.
December 2009 Inflation Moderates At Wholesale
While jewelry suppliers' prices continued to rise sharply during December 2010, the increase was not as large as in prior months during 2010. With a gain of only 8.5 percent year-over-year during the month, December reflected the third smallest monthly inflation rate in 2010.
Further, the inflation rate of retail jewelry prices during December – +5.4 percent – was the largest monthly inflation rate during 2010.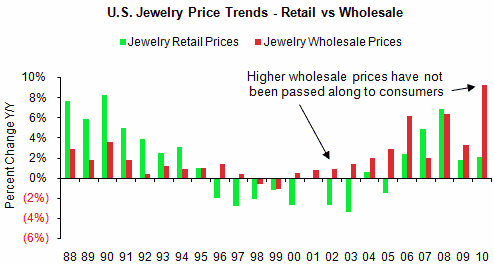 Source: BLS
Full Year 2010 Jewelry Price Inflation Modest at Retail, But Very High at Wholesale
For the full year 2010, jewelry producer prices rose at a rate of 9.3 percent, while jewelry prices at the retail level increased by a much more modest 2.1 percent.
The graph below compares the annual JPPI (red bars) to the annual JCPI (green bars) since 1988. Early in the 1990s, jewelry retail prices rose faster than the underlying wholesale costs. However, for most of the recent decade, wholesale prices of jewelry generally rose more rapidly than retail prices of jewelry, as the graph illustrates.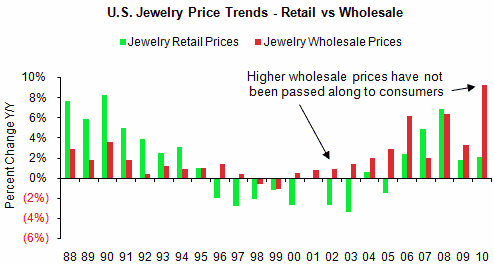 Source: US Dept of Commerce
Outlook: No Relief from Inflation
As the global economy begins to heat up, there will be increasing demand for "hard assets" – specifically commodities including gold, platinum, silver, palladium and diamonds. All of those commodities are major cost components of jewelry.
Until recently, industry labor costs remained modest as producers moved their factories to China and other countries with low-cost labor. However, not only are there no developing countries left with lower labor costs, but labor costs in the Far East are rising. Thus, we expect to the see the labor cost component of jewelry begin to rise in 2011 and beyond.
Retailers are faced with a major dilemma: consumers are seeking a value – better quality goods for a low price – but they also are seeking low price-point merchandise, a trend we saw throughout 2009 and 2010. The quality of merchandise at the "hot" $99 retail price point has deteriorated, and will continue to decline until it becomes junk jewelry. Somehow, consumers will need to be re-educated: you cannot have something for nothing. That is the job of the industry: to explain the value of "luxury" to shoppers.
The full analysis of the jewelry prices at the producer level and the consumer level in the U.S. for both December 2010 and the full year is available to IDEX Online Research subscribers and IDEX Online members here. Click here for more information on how to subscribe or become a member.