IDEX Online Research: Polished Diamond Prices Rise Again in May
June 02, 11
(IDEX Online News) - The IDEX Online Polished Diamond Index averaged 132.1 in May, setting a new record, as polished diamond prices continue to rise. The record surpassed the prior record level both last month and in the pre-recession period of the late summer of 2008.
The full analysis of the polished diamond prices is available to IDEX Online Research subscribers and IDEX Online members here.
On a month-over-month basis polished diamond prices rose by 1.1% in may, based on average asking prices during both months. This was one of the larger price increases in the past two years. This gain is in line with the average of prior monthly gains in the past year or so.
Moreover, between May 1 and May 31, polished diamond prices rose by about 2.4%, one of the largest increases since the price recovery cycle began in March 2010.
Inflation typically begins to heat up in post-recession periods as demand strengthens and suppliers attempt to recoup losses incurred in the recession. In the diamond industry, inflation trends seem to be more pronounced than in many other industries. Polished diamond prices continued to set new records almost daily in May, though there was some indication in May that prices of certain diamonds – specifically three-carat and five-carat gemstones – may not be sustainable.
May's polished diamond prices rose 13.4%, when compared to the same month a year ago. This price increase is well above earlier months' year-over-year gains, and it is close to some of the year-over-year gains in mid-2008, at the height of the diamond price bubble.
Polished diamond price statistics for May are as follows:
| | |
| --- | --- |
| Period | % Change Polished Diamond Prices |
| May vs April 2011 | +1.1% |
| May 2011 vs May 2010 | +13.4% |
| Year-To-Date Through May 2011* | +12.5% |
*January 1, 2011 price compared to May 31, 2011 price.
Three key factors are pushing polished diamond prices higher:
· Rough diamond prices keep increasing – much faster than polished prices. These higher prices are being passed along the diamond pipeline to all participants.
· Consumer demand for jewelry, including diamond jewelry, has strengthened significantly over the past few months, especially from emerging markets such as India and China. As demand has intensified, price inflation has also increased.
· Demand for smaller stones – largely one carat and smaller – from both China and India are pushing up prices. On a month-to-month basis, prices for smaller diamond gemstones rose at a much greater rate than prices for larger diamonds. In contrast, average prices for three-carat and five-carat gemstones fell in May versus April levels.
The graph below summarizes polished diamond prices based on the IDEX Online Polished Diamond Price Index for the past twenty-four months.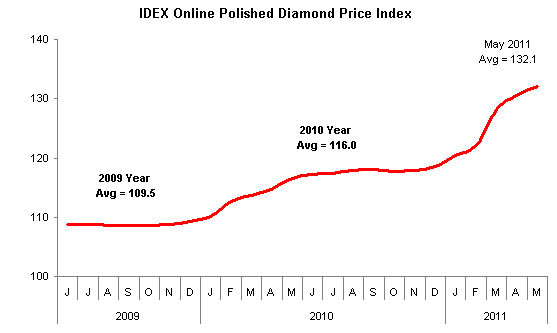 Source: IDEX Online Research
Polished Diamond Price Outlook: Headed Higher
As long as rough diamond prices and consumer demand remains strong, IDEX Online Research believes that polished diamond prices will continue to increase, though perhaps at a more moderate pace than in the first five months of 2011.
Polished diamond prices historically rise rapidly early in a recovery cycle – which began near the end of the first quarter of 2010 – and then increase at a slower pace, in line with the long term annual increase of 3-4%.
The full analysis of the polished diamond prices is available to IDEX Online Research subscribers and IDEX Online members here. Click here for more information on how to subscribe or become a member.