As Gold Dashes Past $1,700, $2,000/oz Viewed As A Possibility
August 10, 11
(IDEX Online News)
– In what is starting to look like a mad dash, the price of gold rose to a new all-time high of $1,770 an once, temporarily passing the price of platinum. Investors are turning to gold as global economic markets are faltering.
A continued concern of the global economy is giving rise to an understanding that gold may reach $2,000.
"The world's capital markets are increasingly concerned that the global economy is heading towards another downturn only three years since the failure of Lehman Brothers and the onset of recession in 32 out of 34 OECD economies," said Marcus Grubb, managing director of investment at the World Gold Council.
"Investors are concerned at the medium term viability of sovereign debt levels and the ability of many leading western Governments to service, refinance and reduce debt," he added.
According to Grubb, some European countries' debt burdens are potentially unserviceable.
Rising gold prices are expected to have a strong impact on jewelry sales. Many jewelry buyers purchase gold jewelry as a way to store value, a common trend all across Asia.
At the just concluded IIJS fair in India, gold jewelry sold well. Demand was backed by an improving economy in India and concerns that the weakening dollar may harm the country's agricultural sector. Rising inflation continues to burden Asia's economy.
"Against this backdrop, together with strong Asian gold demand and continued purchasing by central banks, gold continues to demonstrate its attributes as a hedge against credit risk, currency risk and inflation/deflation risk," Grubb stated.
The price of gold kept rising while platinum lost ground in the past month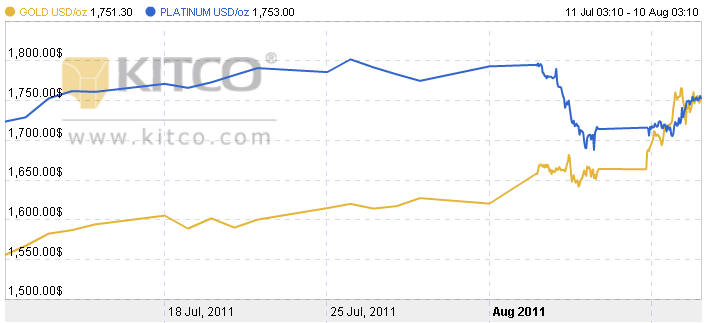 Source: Kitco