Diamond Demand Varies at Vicenzaoro Winter
January 18, 12
(IDEX Online News) – Proving that it's all a matter of expectations, diamantaires exhibiting at the Vicenzaoro Winter show, which runs until tomorrow, expressed a range of opinions about how the first trade fair of the year is going. Those who came with low expectations found that business was better than they could have hoped for, while others who felt that the show would get them off to a good start to the year have been slightly disappointed.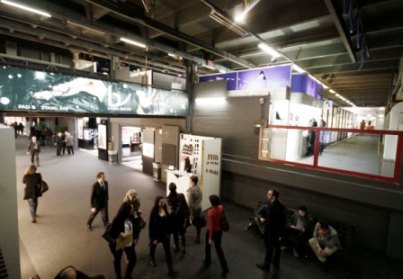 Photo: Fiera di Vicenza
Part of the issue is that Vicenza is a minor show for diamond traders. At the industry's major trend affair, diamonds are a sidelined product with diamantaires located away from the action in the main halls.
The location was a concern for Jeetu Jain of first-time exhibitor HD Diam, which sells items below 5 points. He thought business would have been better if the diamantaires been closer to the center of the exhibition. The show's layout, he said, was not conducive to browsing. "Once they visit, they don't come back," he said of potential clients who tended to walk through past the booths never to be seen again.
Even so, business had been good for the company, albeit below expectations. "One of the reasons we have had such good trade is because we specialize in smaller goods," said Jain.
In terms of what was selling, Jain said that VS-SI goods had been particular popular.
In the next booth, Bufi Raffaele of Ideal Diamonds was somewhat less enthusiastic about the show, which he said was very disappointing. "Visitors are down something like 30 to 35 percent," he estimated, adding that for the most part the customers he had talked to were not interested in buying at the moment.
With designers and manufacturers cutting back on costs by opting for smaller, lower quality goods, Raffaele said it was not so surprising that his business was down at the show since his company specializes in higher quality goods.
The trend of downsizing in both quality and size was something that Patrick Bornstein, director of Antwerp-based Bornstein Diamond Corp., had also noticed. Even with customers ignoring his larger goods, Bornstein said trade at the fair was better than expected, although, he wry added that expectations had been very low to being with.
While it did not surprise Bornstein that the most popular items were the smaller, cheaper items of SI2 quality, what did amaze him was that for the first time in a few years he was also selling some fancy shapes, including hearts, ovals and marquis. "It's always rounds in Europe," he said. "I'm surprised and happy about the fancies. A lot of people have fancies in stock; it's been a difficult item for a long time."
Vicenzaoro Winter runs until January 19.