U.S. Net Polished Imports Declines 9% in 2011
February 12, 12
(IDEX Online News) – Net polished diamond imports by the U.S. in 2011 declined 8.9 percent to $3.91 billion, despite an increase in jewelry retail revenue during the year. This can be partially explained by a growing ratio of sales of jewelry that are set with diamonds outside the U.S.
Gross polished diamond imports in 2011 totaled $21.69 billion, a 20.1 percent year-over-year increase, according to U.S. Department of Commerce figures.
The volume of gross imports decreased 1.1 percent to 13.3 million carats, resulting in a 29.6 percent increase in the average value of imports, which stood at $1,627.55 per carat in 2011.
Exports of polished diamonds continued to increase in 2011, leaping 29.2 percent to $17.78 billion, $4 billion more than was exported in 2010.
By volume, exports have however declined, falling 34 percent to 15 million carats.
Once again, exports by volume have exceeded imports, though in 2011 the trend was less extreme. The U.S. exported a net of 1.7 million carats last year compared to more than 9 million in 2010. The source of this extra diamond supply is not known.
Israel is the largest supplier of polished diamonds to the U.S., shipping $9.12 billion worth of goods in 2011. India and Belgium were source of $6.26 billion and $3.65 billion worth of polished, respectively.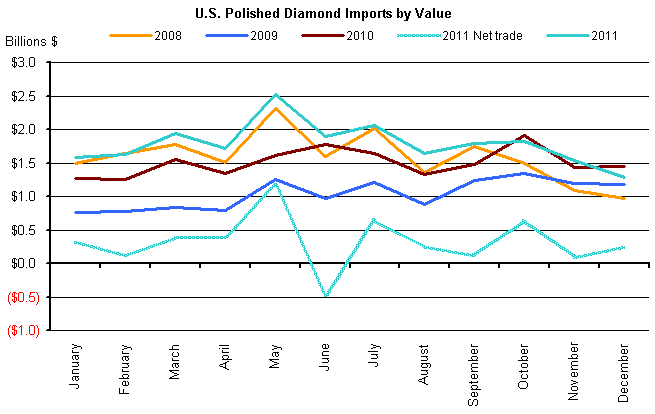 Source: US Dept. of Commerce