A Sharp Drop in Diamond Exports from Botswana in January
March 04, 12
(IDEX Online News) – For the fourth consecutive month, diamond exports from Botswana have declined. The diamond producing country exported $109 million worth of diamonds in January, the lowest export level since August 2009.
Year-over-year, exports fell 69.2 percent. Compared to December 2011, exports declined 31.6 percent, based on figures published by the Bank of Botswana.
This is the fourth straight month that diamond exports have declined. In October 2011, Botswana exported $288.5 million worth of polished and rough diamonds.
The bank uses data sourced from major exporters, including DTC Botswana, Teemane Manufacturing Co, Leo Schachter Botswana and Statistics Botswana.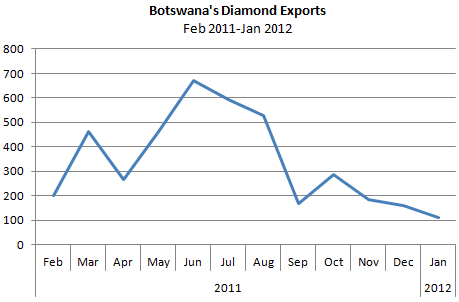 Source: Bank of Botswana