CIBJO President Calls for Collaboration Between UN Agencies and Jewelry Industry
March 29, 12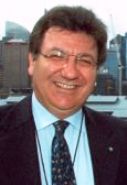 Dr. Gaetano Cavalieri

(IDEX Online News)

– During a presentation at the United Nations' Private Sector Focal Points Meeting in Vienna Austria, CIBJO president Gaetano Cavalieri emphasized the commitment of the world jewelry industry to working together with the international body and its agencies, with the objective of advancing the UN Millennium Development Goals.

The Private Sector Focal Points Meeting is meant to enhance collaboration between the United Nations and the private sector, creating what the UN calls "transformational relationships" that advance humanitarian and development objectives.

In his presentation, Dr. Cavalieri stressed the specific nature of the jewelry business, emphasizing the long chain of distribution and the fact that it is made up predominantly by smaller companies.

To successfully engage the jewelry sector in its development program, Dr. Cavalieri said, United Nations bodies need to create institutional partnerships with umbrella organizations, such as CIBJO. This, he said, would enable the creation of collaborative projects at the local level.

"The jewelry sector is firmly committed to doing the right thing, and in our case it involves assisting our stakeholders and the communities in which they live to meet their development needs," Dr. Cavalieri said. "We face a series of challenges that are specific to our business, not only because of the nature of the product that we deal with, but also because of our structure. With that in mind, we are keen to work closely with the United Nations in developing methods and programs that will lead to the fruition of the Millennium Development Goals."