Fabergé Opens First NY Boutique
May 22, 12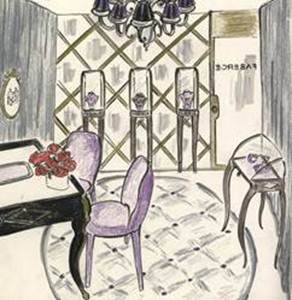 Illustrative Rendering of the Interior of the
Fabergé Boutique on Madison Avenue
(IDEX Online News) – Legendary jewelry house Fabergé is opening its first New York boutique. Emphasizing its design heritage, the façade of the 850-square foot Madison Avenue store – a champagne colored lattice – is inspired by the Coronation Egg, one of the iconic Imperial Easter eggs created by Peter Carl Fabergé in 1897, to celebrate the coronation of Tsar Nicholas II.
The boutique will house Fabergé high and fine jewelry, handmade timepieces, cufflinks, and silver collections designed under the artistic direction of creative and managing director Katharina Flohr.
The new designs include one of a kind necklaces, bracelets, earrings and rings destined to become investment pieces; as well as couture egg pendants.
To celebrate Fabergé's historic links with America's great families – the Vanderbilts, Forbes and Morgans amongst others – the boutique will launch with an exclusive new collection, Les Précieuses de Fabergé, which pays tribute to the style of America's Gilded Age society.
This collection is comprised of a series of precious single stone cocktail rings and delicate earrings. Each piece is centered on a rare and dramatic colored stone, set in an intricate diamond mount in two colors of gold, subtly interwoven with iconic Fabergé style references.
The Madison Avenue store joins other Fabergé boutiques in Geneva and London.