Botswana's Diamond exports Fall 34.6% in April
June 11, 12
(IDEX Online News) – A sharp drop in Botswana's diamond exports took place in April, as the country is about to become the world's leading rough diamond distributor. Botswana exported $173.8 million worth of rough and polished diamonds, a 34.6 percent year-over-year decline.
The drop in exports fallows a large increase that took place in March. Month on month, the decline is 57.7 percent, based on figures published by the Bank of Botswana.
In the first four months of 2012, Botswana exported $1 billion worth of diamonds, a 22.1 percent decline compared to exports during the January-April period of 2011.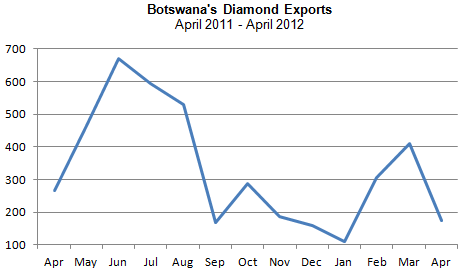 Source: Bank of Botswana