IDEX Online Research: U.S. Jewelry Sales Weak in April
June 28, 12
(IDEX Online News) – U.S. jewelry sales in April were virtually equal to last year's sales in the same month. This was a highly disappointing performance, especially in view of last year's consistently strong double-digit gains in almost every month of 2011.
The full analysis is available here.
Total U.S. jewelry sales eked out a 0.7 percent gain during April, when compared to April 2011, according to the latest preliminary data from the Department of Commerce. This gain was well below our expectations, and it has caused us to temper our U.S. jewelry sales forecast for 2012.
Three key factors had a negative impact on U.S. jewelry demand in April:
· Timing of Mother's Day Was Later This Year – Much of the weakness in April was related to the timing of Mother's Day – later in May this year – and related promotions which were launched in early May this year, rather than in late-April, as is usual.
· Difficult Sales Comparisons – Sales comparisons were particularly difficult in April. Last year's April (2011) jewelry sales gain of 15 percent was the largest monthly gain during 2011, making this April's sales comparison the most difficult of the year.
· Weakening Economic Activity – Jewelry demand in April also reflects weakness in consumer spending, which is tied closely to economic activity. Earlier this year, there were encouraging signs about the near-term potential growth of the American economy. However, recent news has been less encouraging, and jewelry demand has suffered.
Specialty Jewelers' Sales Decline Sharply
Sales at specialty jewelers declined by a dramatic 9.3 percent in April, compared to the same month a year ago, while jewelry sales at other merchants – mostly multi-line discounters – were up by an estimated 8.5 percent.
The disparity reflects the highly seasonal nature of specialty jewelers' sales, which are driven by specific calendar events such as Mother's Day, Valentine's and Christmas. Jewelry sales at other merchants – mostly multi-line discounters – are far less seasonal, since a majority of these sales is fashion jewelry purchased on impulse.
April Jewelry Sales Highlights
The following table summarizes fine jewelry and watch sales trends as well as retail sales trends in the U.S. market for April 2012:

Source: US Dept of Commerce
Here are some high-level sales trends that occurred in the jewelry industry in April 2012:
· Jewelry lost significant market share in April – Total retail sales in the U.S. market were up nearly 4 percent, and total retail sales, ex-auto, were up 3 percent. Total jewelry sales were barely up: +0.7 percent. Thus, jewelry lost "share of shoppers' wallet" in the month. After strong sales gains in earlier this year, it appears that consumers slowed their spending on jewelry.
· Specialty jewelers lost market share to other merchants – Specialty jewelers, with a sales decline of 9.3 percent, lost market share to other merchants – multi-line discounters, mass marketers and online sellers – who sell jewelry. These "other" merchants posted an estimated 8.5 percent gain in jewelry sales in April.
· Jewelry / watch sales mix unchanged in April – Total jewelry (ex-watches) sales were up 1.0 percent in April. Jewelry sales (ex-watches) represented about 87 percent of total jewelry and watch sales, in line with historical levels. Branded jewelry sales declined sharply by 16 percent in April, according to data from the LGI Network. We believe consumers are telling the industry that "fashion" trumps "brands." Branded jewelry sales have been flat or down for six of the past eight months; this is in contrast to stronger sales trends for unbranded jewelry.
· Watch sales weakened – Watch sales, which were down 1.1 percent in April, were weaker than total jewelry sales. Data from the LGI Network also reflects similar weakness: LGI watch sales were down 2 percent, on a same-store basis during April.
· Specialty jewelers' sample confirms weak jewelry demand in April – April's slowing sales trends were also confirmed by InStore magazine's Brain Squad: only 42 percent of the jewelers reported an increase in sales, down from February's 59 percent and March's 53 percent.
The graph below summarizes recent monthly fine jewelry and watch sales trends for the U.S. market. Apparently, stubbornly high unemployment levels, uneven economic growth, foreign financial woes and unstable geopolitical situations – along with the vitriol associated with the upcoming 2012 presidential and congressional elections – have finally caused American shoppers to tighten their purse strings. The U.S. consumer doesn't like uncertainty, and today's world seems to reflect an unusually high level of uncertainty.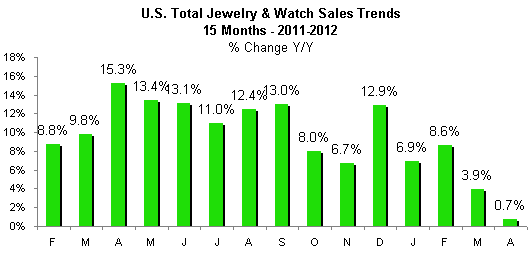 Source: US Dept of Commerce
Forecast: We've Scaled Back Our Outlook
The U.S. economy just can't seem to get chugging along at its traditional pace. After some encouraging economic news early this year, recent developments indicate that economic growth may be decelerating. As a result, we have scaled back our jewelry sales forecast to a gain of five percent in 2012; previously, we were predicting a gain of six percent. We note, too, that inflation has slowed, so this tailwind won't have nearly the impact that it did in 2011.
The graph below summarizes our sales forecast for the U.S. jewelry market for the next several years. If the U.S. jewelry industry achieves a five percent sales gain in 2012, total sales would reach $71.7 billion, up from 2011's $68.3 billion.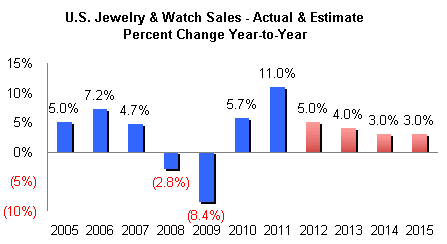 Source: US Dept of Commerce & IDEX Online
We note that management at Tiffany & Co. also scaled back their sales forecast for 2012. The company had been looking forward to a 10 percent global sales gain; it now calls for a gain of 7-8 percent for the year.
May Sales Could Be Strong
After disappointing April sales, we expect May jewelry sales to show solid gains due to a later Mother's Day. Both Zale and Sterling said their May sales were up double-digit levels due to a late surge in demand for Mother's Day jewelry. However, this is likely to be an anomaly related to the timing of this important sales event; it is not indicative of a sudden rebound in jewelry demand from American consumers.