Rio Tinto Releases Bunder Project Sustainable Development Report
July 05, 12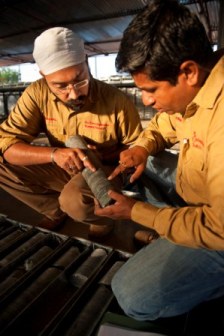 Workers at the Bunder Project
Image: Rio Tinto Diamonds

(IDEX Online News) – Rio Tinto Diamonds has released the first

sustainable development report for the Bunder Project in Madhya Pradesh, India. The project is due to begin commercial diamond production in 2016.

"As the sustainable development report shows, the Madhya Pradesh region in India presents many challenges but also enormous scope for positive change," said Dr Nik Senapati, managing director of Rio Tinto in India. "Already our initiatives in the areas of education, training, employment, health and sustainable agricultural practices are starting to make an impact."

"Our experience across all our diamond operations has been to provide a legacy of stronger, healthier and environmentally secure communities and Bunder would be no different," said Tarun Malkani, COO, India for Rio Tinto's diamonds business. "We recognize that significant obligations are attached to accessing land for mining purposes."

The social and community development work undertaken in the region has initially focused on the needs of women and children in the communities surrounding the Bunder project. This led to Rio Tinto being awarded the 2010-2011 Sitaram Rungta Social Awareness Award by the Federation of Indian Mineral Industries (FIMI).

The project currently employs around 420 people, some 80 percent of whom are from Madhya Pradesh.