Fourth Month of Declines in Belgium's Rough Diamond Exports
July 08, 12
(IDEX Online News) – Another month of declines in Belgium's rough diamond trade. Trade in the diamond industry's most important rough diamond-trading center slowed further in June, suffering from a growing decline in exports.
In June, Belgium exported $1.7 billion worth of rough, a 33.4 percent decline compared to June 2011 and a 6.6 percent decline from May, based on data published by AWDC.
This is Belgium's fourth consecutive month of declines in rough diamond exports.
In May rough exports decline 21.8 percent year-over-year and by 3.7 percent month over month.
The volume of exports, 7.82 million carats, dropped 34.1 percent compared to June 2011 but increased by 6.9 percent month-over-month.
Imports did not fare better. Belgium imported $925.1 million worth of rough, falling below the $1 billion mark for the first time since August 2011.
Rough imports fell 16.7 percent compared to May and 34.8 percent compared to June 2011.
In the first half of 2012, exports declined 9.2 percent to $7.03 billion and imports declined 7.3 percent to $6.54 billion.
There are several reasons for the declining trade in rough diamonds. At the heart of the decline is a combination of a slowdown in polished diamond purchases, leading to high inventory levels, and high rough prices.
Buyers are complaining that polished prices are too high; however, manufacturers are resisting price declines because of the high price of rough and eroding margins.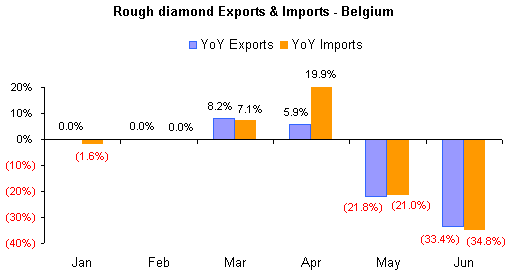 Source: AWDC

Source: AWDC