De Beers Aggregation Moves to Botswana Ahead of Schedule
August 14, 12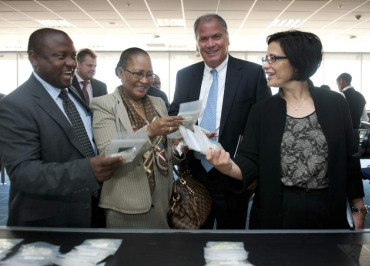 From right, Varda Shine (CEO, DTC), Philippe Mellier (CEO,
De Beers Group), Linah Mohohlo (governor of the Central
Bank of Botswana) and Boikobo Paya (permanent secretary,
Ministry of Minerals, Energy & Water Resources) on the De
Beers aggregation floor of the DTC Botswana building in
Gaborone
(IDEX Online News) – The migration of worldwide diamond aggregation to Gaborone, Botswana, which began today (Tuesday), marks the first phase of the relocation of De Beers' sales activities to Botswana as part of the sales agreement between the company and Botswana.
The company said the migration of aggregation, in which like-for-like diamonds from De Beers' global production are mixed, to Botswana is taking place two months ahead of schedule. For the past 80 years, aggregation hads taken place in London.
The aggregation activities will take place in the new purpose-built De Beers facility housed within the DTC Botswana building.
"This is a key milestone for the diamond industry in Botswana," said Dr. Ponatshego H.K. Kedikilwe, the vice president and minister of Minerals, Energy and Water Resources.
"By shifting the center of gravity of the diamond world here, we are bringing in more economic activity, more skills and more broad-based business opportunities to the country. We are also growing our international profile and establishing the kind of platform that all economies need for sustainable growth and diversification."
"Our focus is on providing our Sightholders with the continuity and quality of supply they expect while living up to our commitment to our partners to push beneficiation to greater levels than ever seen before," said De Beers Group CEO Philippe Mellier.
"As De Beers shifts more and more of its sales operations to Botswana over the next year, we will solidify the long-term future of the partnership and work to transform Botswana into one of the world's leading diamond trading and manufacturing hubs," he added.
De Beers is relocating its Sights and sales operations – including professionals, skills, equipment and technology – from London to Gaborone over the next year.
With the establishment of De Beers' aggregation in Botswana, it is anticipated that about $6 billion worth of diamonds will flow through the country.