IDEX Online Research: U.S. Jewelry Sales Gains Slowing in First Half; Outlook Guarded
September 09, 12
(IDEX Online News) – Uncertain American consumers have kept a tight rein on their jewelry spending in 2012. Total jewelry sales rose by just over 5 percent for the first six months of 2012, far below last year's torrid pace of an 11 percent gain. Further, monthly jewelry demand in the U.S. market has been slowing since the beginning of the year, as the graph below illustrates.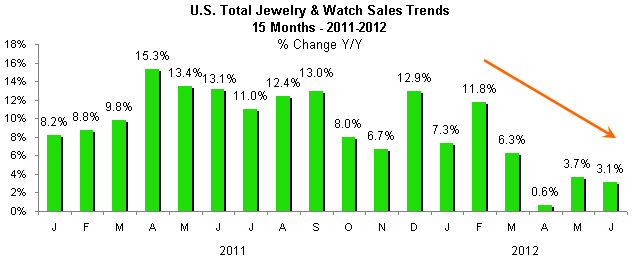 Source: US Dept of Commercce
Shoppers' uncertainty – and the resulting spending restraint – won't be resolved quickly. The major consumer uncertainties include the outcome of the presidential election in November, the faltering U.S. and global economy, languishing home prices, and a yo-yo stock market.
2012 Jewelry Sales Muted
Consumer demand trends for jewelry in the American market are as follows:
· Retail demand in the first half of 2012 has been more muted than expected, for both jewelry and all retail merchandise. Consumers have kept their purse strings tight.
· Fine jewelry and watch sales gains of 5.3 percent were about in line with total retail sales (ex-automobiles) gain of about 5.4 percent for the first six months of 2012.
· Demand for fine jewelry outpaced demand for fine watches. Some of this is related to price inflation of components used in jewelry. For the first half of 2012, jewelry sales are up by 5.5 percent, while fine watch sales are up by 4.5 percent.
· Specialty jewelers lost market share to multi-line merchants who sell jewelry during the first six months of 2012. Multi-line jewelers, such as Wal-Mart, Costco and J.C. Penney have been promoting broad merchandise categories – apparel, seasonal hardlines and other goods – that could provide a major boost to customer traffic and jewelry sales have benefitted. Specialty jewelers' sales account for only about 43 percent of total U.S. jewelry and watch sales, down from three-fourths of total jewelry industry sales in the 1970s.
· High-end jewelry and watches showed stronger demand than popular-priced merchandise.
Outlook: Moderate Gains
While we have not officially changed our full-year jewelry sales forecast – in the range of a 4 percent gain for the U.S. market – it feels a little aggressive based on the current jewelry sales trends.
Jewelry sales in the U.S. market correlate closely to economic growth. After a solid recovery in 2011 – culminating with economic growth of 4.1 percent in the fourth quarter of 2011 – America's economy posted a weak 2.0 percent gain in the first quarter and an even weaker 1.7 percent gain in the second quarter. Hence, it should be no surprise that jewelry sales have weakened this year.