Izhakoff: Commoditization, Integrity Needed for Diamonds
March 19, 13
(IDEX Online News) – The role diamond industry leaders is to ensure that its foundation is secure for the future, doing so by defending the integrity of diamonds and the diamond industry, while all stakeholders benefit fairly from the generated revenues, according to World Diamond Council President Eli Izhakoff.
Speaking the opening session of the Dubai Diamond Conference Izhakoff, said, "We also need to be astute managers, investing wisely in infrastructure, technology, human resources and market research, and taking long-term advantage of opportunities as they present themselves. 'Carpe diem,' or seize the day, as the Romans used to say."
He also spoke of diamonds as a commodity, a view many in the industry are trying to avoid. "[T]oday, with multiple rough suppliers and transparent pricing, the diamond is able to take its rightful place alongside other precious commodities as an inherent store of value."
"During the turbulent economic times that have characterized much of the 21 century, the diamond has been a remarkably steady financial performer, outdoing the leading stock market indices," he pointed out.
"This high profile of the diamond as a precious and preferred commodity is one that will enhance business opportunities for our industry. It also will require us to review many of the precepts and assumptions that have governed our way of thinking and operating for so long.
This summer, Izhakoff will be stepping down from his role as WDC president 13 years after its formation to represent the diamond industry inside the Kimberley Process.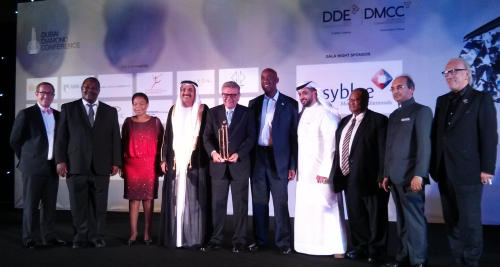 Izhakoff (center) was honored during the Dubai Diamond Conference gala
dinner for leading the WDC