Hong Kong Fair Presents Dizzying Selection Of Jewelry For Visitors
September 20, 14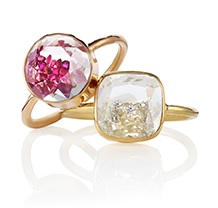 Kaleidoscope jewelry by Moritz Glik.

(IDEX Online News)
–
Identifying a jewelry trend at a show as enormous as the September edition of the Hong Kong Gem and Jewellery Fair, with a total of almost 3,700 exhibitors, is not only close to impossible, but also close to meaningless given the vast number of exhibitors and the styles on display from all over the world.
The show ends today at the Hong Kong Convention and Exhibition Centre for the finished jewelry sector, having opened on September 17.
The Fine Design Pavilion, for example, hosted 74 well-known international jewelry companies exhibiting items set with diamonds, gemstones and pearls, as well watches set with stones of different types and antique and estate jewelry, too.
Then there is the Hong Kong Premier Pavilion, home to 37 Hong Kong jewelry brands, while the International Premier Pavilion featured the elegant booths of 70 exhibitors from 21 countries and regions, from many European states and Russia and across to India, the Far East and the United States.
As a result, there were vast numbers of diamond set jewelry, along with exceptional paraiba, amethyst, fire opals, brown tourmaline, emeralds, sapphires and rubies – set on their own and with diamonds. Meanwhile, the well-known Chinese attraction to jewelry designed with nature in mind meant there was an abundance of jewelry with motifs such as birds and other animals and flowers.
And regarding the Chinese market, the number of jewelry companies offering gemstone-set goods was particularly noticeable, apparently confirming comments by Hong Kong-based gemstone and jewelry industry officials that the appetite for such items was growing in Mainland China. Not just the long-popular jadeite, but also unheated sapphires, rubies, emeralds, opals and fancy colored diamonds, are widely to be seen.
White gold, rose gold, pink gold – and even plain yellow gold were everywhere – as was silver and platinum, and, to a lesser extent, palladium and titanium, and even steel rose rings. Meanwhile, Hong Kong company JPI Ltd was using the fair to spread awareness of its Currency men's silver jewelry that it launched towards the end of last year in the United States and Canada.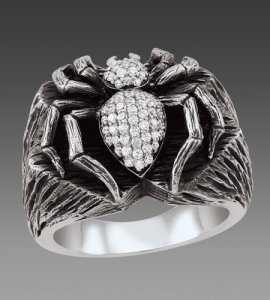 A ring from the Currency men's
silver jewelry collection.
The men's rings, pendants, bracelets and cuff links in silver are set with diamonds and gemstones, while black ruthenium-plating and oxidization aims to gives the pieces a "rugged, masculine feel", the firm says.
Among the more unusual jewelry on display was that of American firm Moritz Glik, who introduced his Kaleidoscope jewelry range of loose diamonds and gemstones in a sort of glass shell in rings, earrings and necklaces. The 18K gold jewelry featured white and fancy colored diamonds, rubies, emeralds and sapphires.
The handmade items are made for customers who want to show their wealth "in a more unique way", Glik said. The concept came about after he noticed how special his loose stones looked in a box with a transparent lid, he explained.
The September 17-21 show appeared to start rather slowly, with some companies saying the first two days had been far from hectic compared to previous years. "It's difficult to say what the reason is, but it is likely connected to the global political situation," said one exhibitor.
"That always has an effect. Turmoil in the Middle East, sanctions again Russia, uncertainty regarding the Ukraine, the slowdown in Europe and, apparently, in China. These situations all take a toll on our business and make buyers nervous."