IDEX Online Research: Jewelry Industry is Loser in Deflationary Environment
January 29, 15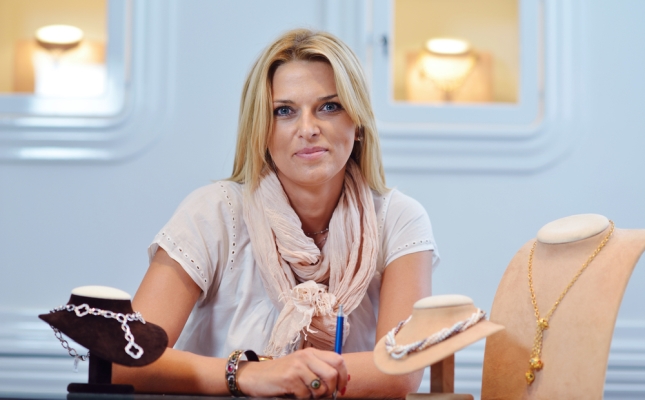 American jewelry shoppers were the winners in 2014, and jewelry retailers, along with their suppliers, were the losers. That's because the US jewelry industry experienced a highly unusual situation: there was price deflation at all levels of the jewelry distribution chain in 2014, according to new government data. The government reported that retail jewelry prices dropped by about 3 percent, and jewelry suppliers' prices plummeted by 7 percent.
· Consumers were the winners because 2014 jewelry retail prices dropped modestly from 2013 levels.
· Jewelry retailers and their suppliers were the losers because they had to work much harder to generate revenue growth, and profits were negatively affected.
Simultaneous price deflation at both the retail and supplier level is highly atypical – it last occurred in 1999, 15 years ago. Even more uncommon, though, was the unprecedented depth of jewelry price deflation in 2014. The graph summarizes price inflation and deflation for the past 26 years. Retail jewelry prices are shown by the green bars, and suppliers' jewelry prices are shown by the red bars. It is clear that deflationary trends in the US jewelry industry in 2014 were far greater than any other time in recent history.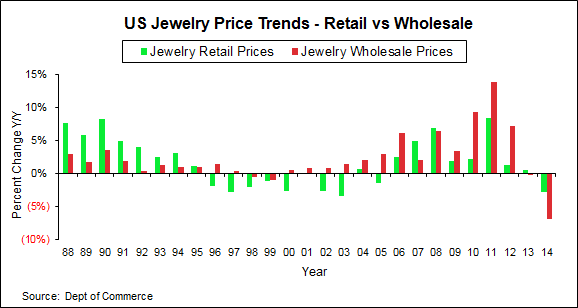 US Consumer Impact – Positive
Jewelry shoppers benefitted from price deflation. Here's why:
Jewelry Cost Less in 2014 – Overall jewelry prices in 2014 were 3 percent lower than in 2013 for the same items, as measured by the Jewelry Consumer Price Index (JCPI).
The JCPI decline of 3 percent was in contrast to the overall US inflation rate, measured by the Consumer Price Index (CPI, less food and energy), which rose by nearly 2 percent in 2014.

When jewelry's JCPI 3 percent price decline is compared to the nearly 2 percent CPI gain, the "value gap" favoring jewelry widens to five points...
Click here to read the complete IDEX Online Research analysis.