Debmarine Starts Operating New Diamond Exploration Vessel Off Namibia
June 19, 17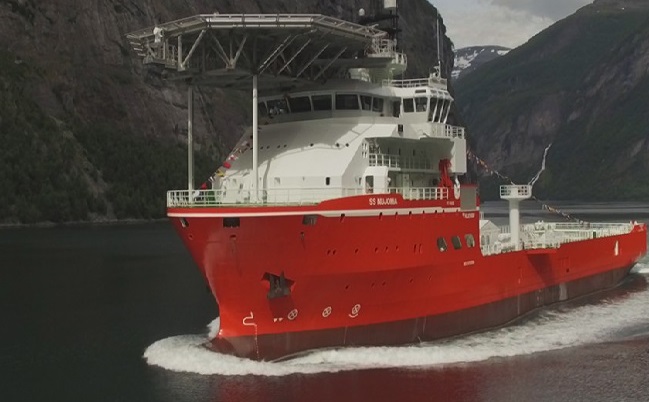 (IDEX Online) – The world's largest and most advanced diamond exploration and sampling vessel, the mv SS Nujoma, is ready to start exploring for diamond deposits in Namibian waters, following its official inauguration, De Beers said.
The $157 million vessel will enable Debmarine Namibia, a 50/50 joint venture between the government of Namibia and De Beers, to explore diamond deposits and secure diamond supply in the country well into the future.
The inauguration ceremony was attended by Prime Minister Saara Kuugongelwa-Amadhila and founding President Dr Sam Shafiishuna Nujoma, who the vessel was named after, as well as Namibia's Minister of Mines and Energy, Obeth Kandjoze.
Debmarine Namibia is the only company in the world to mine diamonds offshore, having started in 2002. The company produced around 1.2 million carats in 2016.
Mining of Namibia's diamonds – some of the most valuable in the world – takes place at around 120 to 140 metres below sea level. Through its advanced exploration capabilities, the mv SS Nujoma will enable Debmarine Namibia to increase resource development for the mining fleet.
The mv SS Nujoma is the first in the company's fleet of five other vessels to be dedicated to exploration and sampling. It incorporates a range of unique technologies that allow it to sample faster, take larger samples and collect more information per sample than any other diamond sampling vessel. It is capable of sampling at more than double the speed of its predecessor.
The 12,000 tonne, diesel-electric powered vessel has created 140 direct new jobs, most of which have been filled by Namibians. It is 113 metres long, can accommodate a crew of 80 and has a helicopter deck suitable for Sikorsky S61s helicopters. It was constructed in Norway and fitted with its subsea sampling system, designed by De Beers Group, in Cape Town, South Africa. The inauguration follows five months of successful sea trials.
Minister Kandjoze said: "Today marks an important milestone for offshore diamond mining in Namibia. The mv SS Nujoma represents the largest ever capital investment in underwater diamond mining and will ensure a long-term, sustainable future for offshore diamond mining in Namibia, as well as creating important new jobs for Namibians."
Otto Shikongo, CEO, Debmarine Namibia, said: "The important collaboration between all parties involved, and the exceptional efforts of those who worked on the vessel's construction, fitting and sea trials, has seen this impressive vessel delivered three months ahead of schedule and on budget."
Bruce Cleaver, CEO, De Beers Group, said: "Offshore diamond mining is becoming increasingly important in meeting global demand for diamonds as many of the major onshore deposits have now been discovered. The mv SS Nujoma will allow even more of Namibia's high quality offshore diamonds to be discovered and mined, ensuring a strong future for Namibia's diamond industry, as well as the global diamond market."
Diamond mining is the single biggest contributor to Namibia's economy.