Just a twenty minute drive away from the center of Los Angeles is the city of Glendale, the third largest in Los Angeles County. Home to the famed oversized Glendale shopping mall, it's now becoming famed for something else. A growing number of jewelry manufacturers are leaving the high real-estate prices and old buildings of downtown LA behind and turning to Glendale. Currently there are around 50 jewelry manufactures located in the quiet, tree-lined industrial areas.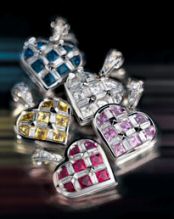 Tycoon earrings
"There's an Armenian community of around half a million here in Glendale," noted Toros Kejejian, President of Tycoon, a company which moved its facilities to Glendale recently. A community with strong roots in the jewelry industry, with many of today's industry players of Armenian origin, third, even fourth generation jewelers. "It's also a short commute to downtown when we need to pick-up tools or other accessories," he pointed out.
The story of Tycoon, a company built by two immigrants to Los Angeles, is a story repeated over and over in the land of opportunity. In a little over 15 years, Tycoon has grown from a diamond jewelry manufacturer into one of the industry's foremost names in branded diamond jewelry, thanks in part to the introduction in 1999 of the Tycoon cut-diamond. A cut in which simplicity reigns supreme: "Less is more," Kejejian avers. One afternoon, some three years ago, Ehud Shimoni, an Israeli who emigrated to Los Angeles in the late eighties called the manufacturer of his diamond jewelry line (and good friend) to compliment him on the recent Tycoon campaign. "I'd just seen a Tycoon advertisement in a publication, picked up the phone, called Toros and asked him how we could team-up together," related Shimoni. It took all of one meeting to discuss, construct and finalize the contracts and the two partners joined forces in a Tycoon force push throughout the jewelry market.
So what does it take to become a branded jewelry line? While there may be no hard or fast rule to this, most branders will place 'retailer support' high up on their list, and of course, design and publicity. "But," notes the Tycoon President, "if the seed isn't any good, then the product won't grow. It's all about teamwork, not just within the company, but also with our clients. We market the line together with our retailers, create built-in boutiques inside stores, train the sales people and most importantly of all, local co-op advertising." Just a few minutes down the road from the Tycoon headquarters is that of Tacori. Another famed jewelry brand name established by immigrants who moved to Los Angeles in 1975, escaping the cruel dictatorship of the Ceausescu regime in Romania. Haig Tacorian took his first foray into the jewelry industry as a traveling salesman, paying his way through college. But, realizing he was making more in a week selling jewelry than his father was making in a month, Tacorian decided that selling jewelry full-time was a far more appealing prospect than that of college. The traveling jewelry salesman soon decided that he wanted to be selling his own product and thus, the first Tacori breaths were taken. Far from having its start in the diamond industry, Tacori's original lines were pearl jewelry. The once traveling salesman began manufacturing pearl jewelry in Hong Kong and bringing it over to an eager U.S. market.
The uniqueness of the styling has, since Tacori's inception, been what some would call their trademark image. As far as Tacorian is concerned it's more about providing the U.S. market with pieces infused with European spice. It was 12 years ago, that the company branched into diamond heavy pieces, all infused with that Tacorian zing. Today, along with the zing, almost every Tacori piece features a crescent silhouette. "It's our signature," Tacorian states. So much so that not only is the look copyrighted, but the company passionately defends its look, with over 30 lawsuits filed against anyone trying to 'copy the look'.
Whilst they may not be in the heart of LA, that certainly doesn't mean that the power of the screen hasn't had its influence. Tacori became the 'must-have' ring for brides when the producers of both the 'Bachelor' and 'Bachelorette' chose a Tacori bridal ring for the winners. "One of the producers of the series had bought one of our rings in a store and loved it so much, they asked us to provide the rings for the series." If that wasn't enough, during one episode they brought the happy reality couple to the Tacori headquarters in Glendale to film the process from design to final manufacturing of the ring. Now, that's product placement. Today Tacori's bridal range far exceeds what is traditionally considered bridal jewelry. Pearl headsets and tiaras, pins, bridesmaids pendants, buttons, you name it and they produce it in pearl, diamonds and platinum. And for this company in-house production means exactly that, in-house, in Glendale.