Prior to World War II, the woman's place in American society was in the home. As factories geared up to make war commodities in the late 1930s, the only labor available was women, since men were being shipped overseas to fight the battle in the fields of Europe and beyond. The poster of the proverbial Rosie the Riveter said it all: a woman was as capable as a man of doing work that had previously been the exclusive domain of the male.
Since World War II, the percentage of women in the workforce has continued to rise. In the 1970s, fewer than 45 percent of all women were employed outside of the home; today, almost 60 percent of all women have a job outside of the home.
At the same time, the percentage of men in the American workforce has declined modestly, as more men have become "house husbands."
the graph illustrates the percent of the U.S. population by gender in the workforce since 1973.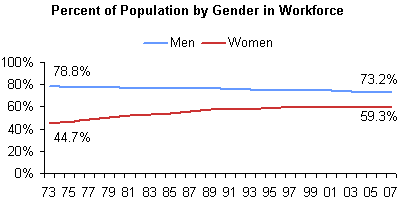 Source: BLS
Other facts about women in the labor force include the following:
The labor force participation rate – the percent of the gender that was working (or seeking employment) – was 59 percent for all females; it is even higher for mothers ("mothers" are defined as females with children). About 69 percent for married mothers and 77 percent for unmarried mothers (widowed, divorced, separated or never married) are either in the workforce or are seeking a job outside of the home. This indicates that mothers – married or unmarried – are much more likely to be in the U.S. workforce than other females with no children.
The labor force participation rate for all mothers with children under 18 was 71 percent in 2007.
In 2007, the unemployment rate for working married mothers was about half (around 3 percent) of the total unemployment rate (about 6 percent) for all workers.