Women's Earnings Affected by Ethnicity
Among female wage earners, Asian women earn significantly more than their counterparts of any other ethnic group. White women also earn just above the national average. Both black and Hispanic women earn substantially less than the national average. In part, this wage disparity relates to educational levels. As a percentage of the population, both white and Asian women are better-educated. This allows them to hold higher paying jobs.
However, the bottom line is this: an Asian or white woman is more likely to have discretionary income to spend on jewelry than women of other ethnicities. The reality is this: all women spend on jewelry, but blacks and Hispanics tend to buy less expensive jewelry than others.
The following graph illustrates the disparity in women's earnings by ethnic group in the U.S. market.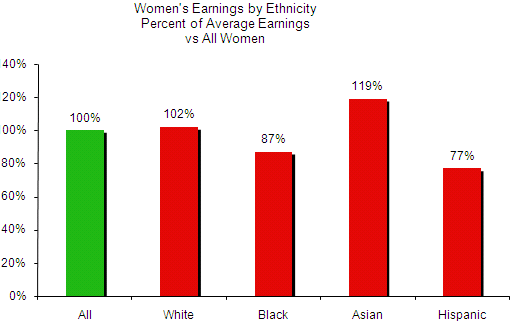 Source: BLS
As we drill down into the data, which analyzes the differences between men's earnings and women's earnings, we find some further differences by ethnic group. These findings are from the latest data available (2007):
Earnings differences between women and men in 2007 were widest for Asians and whites. Asian women and white women earned just less than 80 percent as much as their male counterparts. By comparison, black women and Hispanic women had earnings that were around 90 percent of their male counterparts. This lack of disparity can be explained by the nature of the jobs that often characterize black and Hispanic individuals – they often work at lower-paid, menial jobs.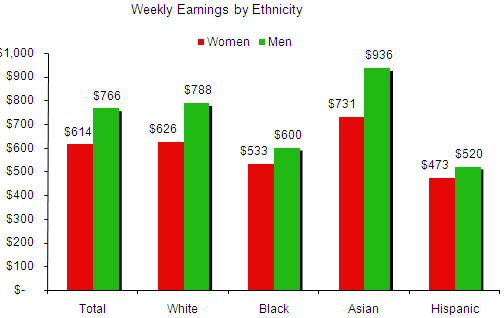 Source: BLS
Asian female workers earned more than their comparable white, black and Hispanic colleagues. White female workers earned only 86 percent as much as Asian working females, while black and Hispanic women earned 73 percent and 65 percent, respectively, as much as their Asian counterparts. Here's what this means to jewelers: working Asian women represent an excellent target market.
Women's Earnings Affected by Education Level
Among women (and men), better-educated females earn more than those with less education.
Better-educated women earned significantly more than less-well educated females. Women without a high school diploma earned roughly one-third as much as a woman with a college degree.


Between 1979 and 2007, inflation-adjusted wages for women with a college degree rose by 33 percent while inflation-adjusted wages for men with a college degree rose by a more modest 18 percent.
Women's Earnings Affected by Marriage
Many studies have shown that men who are married and have a family earn more than unmarried men. This holds true for women, as well.
Earnings for married women were higher than for their unmarried counterparts (this is the situation for males, too). As a group, married women tend to be older and are more likely to be in their prime earning years.
Women's Earnings Affected by Occupation
Women have made substantial inroads into higher paying occupations. They hold roughly half of all management, professional and related occupations. In part, this relates to increased educational levels for women. For example, in 1970, only 11 percent of all women between the ages of 25 and 64 had completed four or more years of college; today, more than one-third of all women in that age range hold a college degree.
In management, business and finance, the highest paying occupations for women were chief executives and computer and information systems managers.
Women's Earnings Affected by Demographics
America is the home of the phrase "politically correct." Thus, it is supposed to be the home of the classless society. However, study after study suggests that consumers of certain demographic groups seem to fare better than consumers in other ethnic groups.
For example, ethnicity, education levels and marriage have a significant impact on the level of a woman's earnings.