By Amanda Gizzi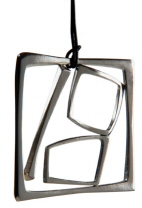 Sterling silver Pazza
pendant by Emanuela
Ducca

Let's face it; the economy is in a bad state. It is the case all over the world. During these turbulent times, we know that fine jewelry is not at the top of people's "needs" list. However, we also know that there is nothing else in the world like fine jewelry to mark life's most special moments. It also makes people feel really good when they wear it. That being said, no one wants to be seen as ostentatious during these times when others are struggling to make ends meet. What does this mean for the jewelry industry? It means a return to silent luxury. It means a return to simple, elegant jewelry that doesn't appear to have broken the bank.
Pearly Delights
Pearl strands are a great, classic item. Classic pearl strands are something that nearly every woman either has or wants to have in her jewelry wardrobe. Pearls also never appear to be too flashy when they are of appropriate size. Instead, they connote a conservative appearance. The magical thing about these superstars of the sea is that they are available in such a wide variety of shapes, sizes, price ranges and types. Inspiration for jewelry designers, retailers and consumers alike can be virtually limitless thanks to the wide selection of Freshwater cultured pearls, Akoya pearls and silky gray Tahitian pearls. First Lady Michelle Obama has been wearing a large strand of pearls. Although hers are fake, which is certainly not ideal, it is driving attention back to pearls and that is something worth celebrating.
Sterling Silver
There is no denying the fact that silver is ever present. From high-end to low-end, sterling silver is allowing consumers to fortify their cravings for purchasing new pieces of jewelry without breaking their budgets. Today, sterling is being mixed with diamonds, precious metals and other precious stones. Designs range from simple pendants to exquisite works of art worthy of gallery design. Sterling silver also provides a reason to get consumers into the store. When promoted properly, sterling silver jewelry can be the ultimate gift purchase, self-purchase and add on purchase. Sterling silver will NEVER replace gold, platinum or palladium. However, during these tough times, it can't be ignored.
Semiprecious
Welcome to the world of color. Vast and plentiful, precious stones are bold in look yet quiet in message. A $1,000 colored gemstone doesn't appear flashy but is the silent luxury that consumers crave in this economy. Colored gemstones also make people genuinely happy. They can take the dark and dreary appearance out of any wardrobe or façade. Amethyst is one gemstone to keep your eye on. Purple is great for summer but heading into fall it will pick up even more momentum. Citrine works well with amethyst for obvious reasons and falls right into the color palette for the upcoming seasons. Cabochon gemstones are red hot. From cocktail rings to stud earrings, the cut is as unflashy as they come.
For over 60 years, Jewelry Information Center (JIC) has been the only industry-owned, non-profit organization that works tirelessly to keep the entire fine jewelry in the mind of the consumer through public relations and marketing. In doing so, JIC helps increase consumer brand recognition and create demand for fine jewelry and watches while driving traffic into retail stores. In the current economic climate, Jewelry Information Center provides great value to businesses for a minimal investment. More information about JIC and its services can be found at the association's website, www.JIC.org, by contacting JIC at 646-658-0240, or by emailing info@jic.org.