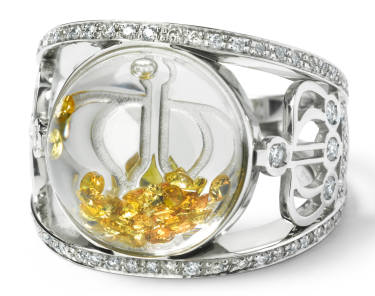 Stars of Africa Limited Edition floating orange diamond
ring by Royal Asscher. The 18k white gold ring is set with
0.55cts white diamonds on the shank and 0.60cts to 1.55cts
of floating orange diamonds.
Photo: Royal Asscher

(IDEX Online News)
– The majestic Stars of Africa collection by Royal Asscher Diamond Company is now offered at
London
's famed luxury department store Harrods.
Award winning designer Reena Ahluwalia designed the collection along with the Asschers
.
Launched in 2009, the innovative collection consists of diamonds encased within fluid-filled sapphire domes, which allow the diamonds to float freely like snowflakes in a snow globe. The result is cascading diamonds that emit light, fire and beauty.
Harrods will have the largest collection of Stars of Africa jewelry in the UK, including the limited editions with pink diamonds and the Royal Stars with orange diamonds, which are a tribute to the Royal Dutch family.
The collection benefits Royal Asscher's fundraising initiative that aims to improve infrastructure in Africa through funding healthcare, education and self-sufficiency programs.