| | | | | | | | |
| --- | --- | --- | --- | --- | --- | --- | --- |
| DIAMONDS | JEWELRY | DIAMOND PRICES | NEWS | FORUMS | COMMUNITY | SERVICES | MY IDEX |
Weak Indian Rupee Impacts Gemfields Emerald Auction
(June 20, '12, 8:33 Vinod Kuriyan)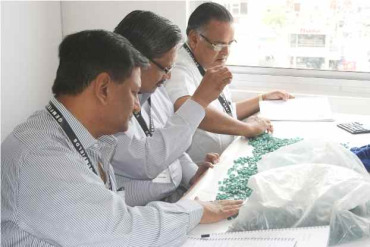 Buyers examine goods at the Jaipur auction
(IDEX Online News) - The 13 percent weakening of the Indian rupee against the US dollar over the past eight months impacted the offer prices at the Gemfields auction of lower-end rough in Jaipur.
The company said that this was due to the fact that much of the polished that comes out of this rough is consumed in India itself and the rupee value of the final product was thus adversely impacted.
The auction generated revenues of $9 million. The average price at the auction was $2.61 per carat. Gemfields said that overall demand remained strong with some weakness apparent only in the lowest quality grades.
Gemfields operates the Kagem mine in Zambia, the world's only organized emerald mine. It holds regular auctions of its goods, with high-end material being put on the block at Singapore. The latest auction was the fourth and final one for the current financial year which ends June 30. This year's four auctions together have generated a total of $77 million in revenue.
| | | | |
| --- | --- | --- | --- |
| | | | |