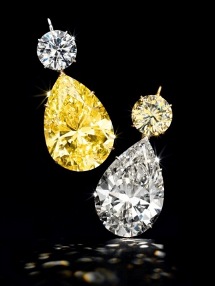 Image: Christie's
(IDEX Online News) – Three diamond jewels weighing more than 50 carats each, and a rare double strand of large natural diamonds are among the headlining pieces at an upcoming auction at Christie's New York.
The top colorless diamond in the sale is a pear-shaped D-color flawless diamond of 50.52 carats. Offered with a GIA certificate noting its excellent polish and excellent symmetry, the stone is mounted in platinum and may be worn suspended from a necklace with a 2.28 carat, circular-cut D-color diamond surmount (price on request).
Among the colored diamond highlights is an oval-cut fancy intense yellow, internally flawless diamond of 68.35 carats (estimate: $2.2-$3.2 million) with excellent polish and symmetry.
The third large diamond lot is a pair of ear pendants that brings together a pear-shaped fancy yellow diamond of 52.78 carats and a pear-shaped white diamond of 50.31 carats surmounted by circular-cut fancy yellow and white diamonds (estimate $4.5-$6.5 million). Mounted in yellow and white gold, the pendants can be easily swapped or detached completely, giving the lucky owner three options for how to wear them.
For pearl lovers, the auction house is offering an exceedingly rare double strand natural pearl necklace formed of 120 large-sized individual pearls (estimate: $2.8 – $3.5 million). This double strand is accented with a 3 carat, D color diamond clasp signed by Cartier.
"Our spring auction season was our strongest yet at Christie's, with $303.5 million in total jewelry sales and unprecedented global participation," said Rahul Kadakia, head of Jewelry for Christie's Americas and Switzerland.
"In anticipation of a continued strong market this autumn, our team of jewelry specialists has spent the summer months gathering the finest gems to match current collecting tastes, including top-quality diamonds, natural pearls, emeralds, rubies, sapphires, rare vintage jewels, and highly-coveted contemporary creations from the best designers."
The 372 lots in the October 16 auction are expected to achieve in excess of $35 million.