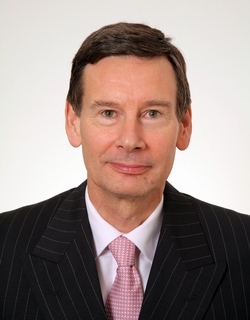 James Courage
(IDEX Online News) – James Courage, the chief executive officer of Platinum Guild International (PGI), has been unanimously endorsed as the next chairman of the Responsible Jewellery Council (RJC). Courage will succeed Dr. Matt Runci when he retires on December 31.
Courage has more than 30 years of experience in the jewelry industry, with De Beers in the 1980s and from 1996 with the Platinum Guild.
"I am sure all RJC members will welcome James to the role of RJC chairman as he applies his renowned knowledge, passion and extensive international experience to this important leadership role in the jewelry industry," said Runci.
"In assuming the role as the non-executive chairman, I look forward to assisting RJC's members, its board and its management team build on the successes of Matt's term, so as to achieve the RJC's mission: To advance responsible ethical, social and environmental practices, which respect human rights, throughout the diamond, gold and platinum group metals jewelry supply chain, from mine to retail," said Courage.