| | | | | | | | |
| --- | --- | --- | --- | --- | --- | --- | --- |
| DIAMONDS | JEWELRY | DIAMOND PRICES | NEWS | FORUMS | COMMUNITY | SERVICES | MY IDEX |
Kisna Jewelry Brand Chosen as Jewelry Brand of the Year
(January 30, '14, 1:07 Albert Robinson)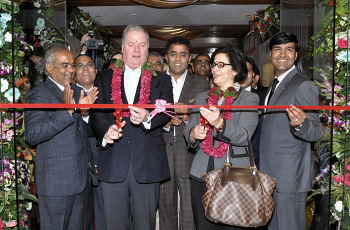 Philippe Mellier, center, opening Hari Krishna's
new offices

(IDEX Online News)
– The Kisna diamond jewelry brand, the flagship jewelry line of the Hari Krishna Group, has been selected as the "Jewellery Brand of the Year" at the Indian Jewellers (IJ) Choice Design Awards.
The awards were voted for online by more than 1,000 retailers across the whole of India. Some seventy Indian companies were nominated in 24 award categories.
"We are both happy and proud that Kisna has received the Jewellery Brand of the Year award," said managing director Ghanshyam Dholakia.
The Kisna brand was launched in July 2005 and is available in more than 6,000 retail outlets through 450 distributors in India.