Celebrating the US jewelry industry at the AGS Conclave
April 18, 19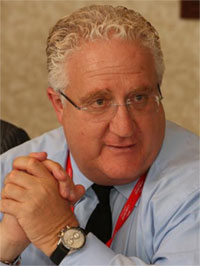 I made my way to Seattle last week to attend the AGS Conclave, the annual networking event of the American Gem Society (AGS) that is also a celebration for the members of the jewelry profession.
Many members of the diamond industry and trade are not of aware of how vibrant, energetic, inspiring, warm - yes, warm - and embracing the US retail jewelry industry is.
Every time I go to AGS events - there is hardly a more prestigious and valuable jewelry organization in the USA - I am blown away by the sheer number of people, younger and older (careful here, VanderLinden) who contribute their energy, time, talents and love for our industry, convinced that they have an important role to play in the lives of our business associates, employees, clientele and yes, last but actually first, our families.
At the AGS conclaves, those individuals who make a difference and stand out with their actions and service to the industry and the public, are honored.
Let's take a look at what we had in Seattle this year:
First, my congratulations to the AGS leadership – to Katherine Bodoh, John Carter, Michael Richards, Lisa Bridge (our Seattle host), Alexis Padis and everyone else involved with this year's AGS Conclave! Unfortunately, I don't have enough space to name everyone involved!
Marc Nanasi, Chair of the Young Titleholders Steering Committee, presented Meredith Schlessinger, CG, with the Young Titleholder of the Year Award. "Since she joined the Young Titleholders, Meredith brought with her enthusiasm, energy, and great ideas. She is perhaps more passionate than any of us when it comes to building a warm and welcoming community." Marc noted.
Lisa Bridge, CG, was presented with a special plaque for her instrumental efforts in reigniting the Young Titleholders. "Lisa helped take our community from an idea to a thriving and growing part of AGS. She is a leader who embodies the values and mentorship that we all expect from AGS members," Marc told his fellow members.
Supervisory Special Agent of the FBI, Steve Gonzalez, was presented with the John J. Kennedy Award by Marc Altman. "Special Agent Gonzalez voluntarily stepped into the role of ensuring the FBI's partnership with AGS, and through his extensive network, the Guilds are assured outstanding meetings on security for years to come, as well as meetings at FBI facilities," Altman said.
Kelly Newton, CGA, of Newton's Jewelers in Fort Smith, Arkansas, was the recipient of AGS' most prestigious honor, the Robert M. Shipley Award. "Kelly sets the standard for what an AGS Jeweler should be and what the Shipley Award stands for," said Doug Parker, who is a past President of the AGS Board of Directors and current chair of the Robert M. Shipley Nominating committee. "He gives freely of himself to AGS, the industry, his community and his church. We are very proud to honor him with the 2019 Robert M. Shipley Award."
Coming back to the office, I kept thinking: Why don't we look at those in the midstream who really make a difference and honor them for those efforts and achievements - annually... after all, they deserve it.
Food for thought.
In closing, I like to wish all who are celebrating a Happy Passover or a Wonderful Easter!
Ronnie VanderLinden is president of the Diamond Manufacturers & Importers Association (DMIA); the International Diamond Manufacturers Association (IDMA) and the US Jewelry Council (USJC). He is also an AGS Board Member at large.