IDEX Online Research: Charles & Colvard: A Success Story Worth Understanding
February 27, 06
Charles & Colvard posted stellar results for the year ended December. With everything else going on in the jewelry industry, it may have been easy to overlook this recent news story.
Here's why you should take a second look at Charles & Colvard's financial results and how chairman Bob Thomas and his team achieved them:
Charles & Colvard's financial results for the year ended December 2005 surged.
· Sales increased 82 percent to $43.5 million.
· Carats shipped increased 88 percent to 254,500.
· Pretax profits tripled to $9.6 million.
· Pretax margins rose to 22 percent. Charles & Colvard's profit margin is well above any of the other publicly held jewelry suppliers, including well-known names such as Movado, Lazare Kaplan, and De Beers. Only Aber Diamond's pretax returns exceed Charles & Colvard.
· Cash on hand rose by over $8 million to $21 million at year-end.
· The company has no long-term debt.
· It paid a first-ever cash and stock dividends in 2005.
· CTHR shares are now included in the Russell 3000 and Russell Micro Cap indexes.
· The price of CTHR shares more than doubled during 2005.
The graphs below summarize financial results for the past seven years.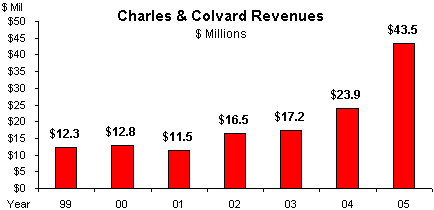 Source: Company reports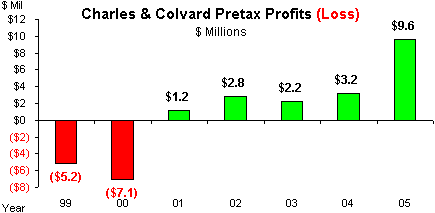 Source: Company reports
It Hasn't Always Been This Sweet
In the late 1990s, almost everyone in the jewelry industry was laughing at Charles & Colvard's moissanite jewelry. "This is just another cubic zirconium," they said. For a while, the company's critics were correct. Moissanite failed to catch on with jewelers because of bad marketing, bad positioning (the product was originally positioned as a diamond look-alike, something historically intolerable in fine jewelers' stores), and lack of research about the potential market and customers.
Today, Charles & Colvard is one of the jewelry industry's great success stories. Charles & Colvard chairman Bob Thomas and his team have successfully overcome the bad press and ill will which was initially created when moissanite was introduced. That was no easy feat. Once this created gemstone was properly repositioned, it was still a very tough battle getting jewelers to sign up to sell moissanite jewelry.
Moissanite Market Positioning
Moissanite, a created gemstone, is now positioned as a unique fine jewel. Its target customer is the self-purchasing woman who understands that because of moissanite's superior brilliance and fire, it provides her with greater notice and attention, and it typically garners more compliments than some other jewelry.
The company got a couple of big breaks in 2004 and early 2005 when J.C. Penney and Finlay agreed to put moissanite jewelry into some of their retail locations. Demand was strong. Since then, other major chains have begun to line up behind moissanite.
Today, Charles & Colvard customers include not only Penney and Finlay, but also Helzberg and Zales as well as a number of other independent chains. Finlay chairman Art Reiner often mentions moissanite jewelry as a driver of his company's sales in the leased departments which Finlay operates in American's leading department stores. Further, Charles & Colvard has significant international distribution, especially in Asia.
The graph below summarizes total carat sales as well as the price per carat of moissanite. The price per carat has fallen very modestly since the beginning of the decade due primarily to a shift in mix toward slightly smaller, less expensive stones.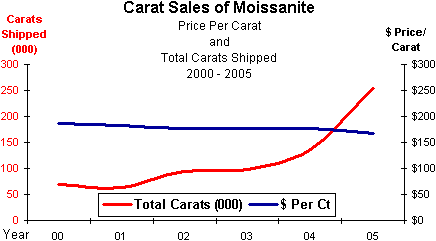 Source: Company reports
Research, Marketing & Sales Programs Fueled Revenue Gains
In an effort to jump-start sales of moissanite, Bob Thomas and his team implemented a wide range of programs over the past several years. Some have been successful; others have failed. As Thomas said in a recent conference call, "the path [our strategy has taken] is not a straight line."
Here's the point: Charles & Colvard has not been afraid to spend money for research, marketing, and sales support. Management has not "sat on their hands," waiting for the next customer to come through the door. They wake up in the morning thinking not about who they will do their next trade with but about their marketing plans. They think globally. And, they have initiated all of these programs on their own; they were not pushed by their source of moissanite, Cree Industries (diamantaires could substitute the words "De Beers" for Cree). Diamond and jewelry suppliers could take lessons from Charles & Colvard.
IDEX Online Research has summarized some of the more important marketing milestones here. The list illustrates the vitality of Charles & Colvard's marketing programs.
The author of this report owns 100 shares or less of all publicly held jewelers, including Charles & Colvard.