Read my Pins – Fourth International GIA Symposium Kicks Off
August 29, 06
With an opening keynote speech from former U.S. Secretary of State Madeline Albright, and a 75th birthday party featuring a concert by Chris Isaak, the Fourth International Symposium kicked off in style at the Manchester Grand Hyatt in San Diego yesterday.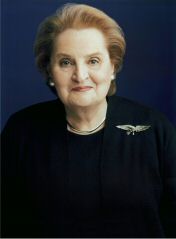 Companies operating in Africa must
be socially responsible for their
actions - Former U.S. Secretary of
State Madeline Albright.
Photo: Timothy Greenfield-Sanders
With her well known love of jewelry, especially brooches, Albright proved an extremely popular choice as an opening speaker. Her comment, "I am delighted to be here for the simple reason, I love jewelry," was met with rapturous applause. Playing to the audience, Albright revealed that she has no sins, except for buying jewelry. "I am grateful to the GIA for showing me it's not a sin but a sign of excellent character."
Though her speech, and the question and answer session hosted by GIA president Donna Barker, mainly dealt with U.S. politics, Albright told the gathering how she had used her brooches as a diplomatic tool when she was secretary of state. While President George Bush told delegates at the 1988 Republican National Convention to "read my lips," Albright used the policy of "read my pins." For example after being called a snake by Sadaam Hussein, Albright would wear a snake brooch whenever she met with Iraqi officials. Following the arrest of Hussein, Albright bought a brooch depicting a snake skewed with a dagger, which she wore to the Symposium.
On the subject of diamonds, Albright touched on the Kimberley Process and mentioned a trip she had made to Sierra Leone in which she had visited a camp where people were divided according to the limbs they had lost. Nevertheless, she said, she did not believe that diamonds were responsible for what had happened in Sierra Leone and in Africa as a whole; however, companies that operate in Africa must be socially responsible for their actions there.
Following her speech, Nir Livnat, CEO of Steinmetz, the premier sponsor of the Symposium, presented Albright with a sun shaped brooch. Upon receiving the gift, Albright joked, "this is much better than the dentists' symposium."
Albright was one of the VIP guests to attend the GIA's 75th anniversary party, which was held on the GIA campus in Carlsbad. While the private concert by Chris Isaak was certainly a highlight, a special museum exhibit, "Celebrating Excellence in Gems and Jewelry," was packed throughout the night. The pieces on display included the Hooker Emerald Brooch and the Bismarck Sapphire Necklace, on loan from the Smithsonian, a 1908 "kokoshnik" tiara courtesy of Cartier, and a fancy-colored diamond floral brooch by Bulgari, on loan from the Royal Ontario Museum.