IDEX Online Research: Tiffany & Co. 2006 - By the Numbers
May 20, 07
Tiffany & Co., the world-renowned jeweler, posted global sales of just over $2.6 billion in 2006. That makes it one of the largest jewelers in the world. In addition, the brand is 170 years old (founded by Charles Lewis Tiffany in 1837), making it one whose legacy has not waned with age.
Tiffany's ubiquitous blue box is an icon; its brand is by far one of the best known in the jewelry industry; and, its financials are stellar.
Tiffany's growth continues unabated: its sales are up 11-fold since 1988 from $230 million to $2.65 billion in 2006. Profits have risen 15-fold in the same period from $17 million in 1988 to $254 million in 2006. In short, sales have grown at a 14 percent compounded annual growth rate since 1988, and profits are up at a 16 percent compounded annual growth rate in the same period. By comparison, total U.S. jewelry sales have grown at just under a 5 percent compounded annual rate in the same 18-year period. Clearly, Tiffany's growth is outpacing the industry average by a huge margin.
Tiffany's management is driven by numbers. They are business people first and jewelers second. They maintain the long view:
Tiffany: A Global Jeweler
While many jewelers think of Tiffany as an American brand, only about 50 percent of its revenues come from Tiffany stores in the U.S. About 38 percent of its revenues come from overseas retail operations. In addition, just under 7 percent of its revenues come from online and catalog sales, while the balance of its revenues – about 5 percent of sales – come from "other" operations including the Little Switzerland chain, Iridesse pearl stores, and wholesaling activities related to rough diamonds.
The table below summarizes the composition of Tiffany's global revenues.

Tiffany & Co.
2006 Sales by Channel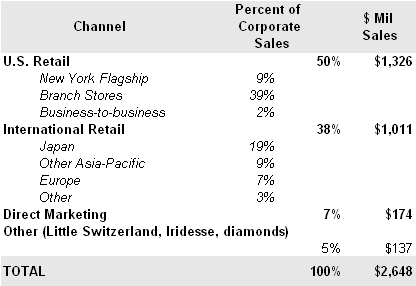 By the numbers, the following is a summary of Tiffany's operations in 2006:
At year-end, Tiffany operated 167 Tiffany & Co. stores and boutiques – 64 in the U.S. and 103 internationally – an 8 percent increase in total stores from the prior year.

The company maintained an active pace of store expansion. It added five stores in the U.S. (Nashville, Indianapolis, Atlantic City, Tucson and Hawaii), three in China; four in Japan, one in Korea, and one each in Vienna, Austria, Monterrey (Mexico), and Vancouver (Canada). It closed three units.

The company continues to renovate older stores. It completed renovations of its flagship stores on Fifth Avenue (New York) and Old Bond Street (London).

Tiffany's product line consists of jewelry (about 85 percent of U.S. sales and 92 percent of sales in Japan), timepieces, sterling silver goods (other than jewelry), china crystal, stationery, fragrances, and personal accessories. Sales by product category are as follows:
Tiffany & Co.
Sales by Product Category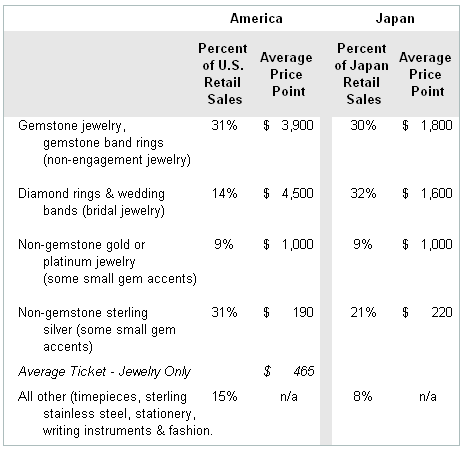 Tiffany branded goods represented about 83 percent of sales in 2006, up from 82 percent of sales in the prior year. The following table summarizes sales by brand at Tiffany stores.
Tiffany & Co.
Sales by Brand or Designer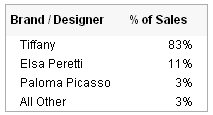 Direct marketing sales, which include e-commerce and catalog sales, were flat at about 6.6 percent of total corporate revenues. However, the number of catalogs mailed has been steadily declining, and the number of online orders have been rising. The company has websites targeting consumers in the U.S., Canada, the U.K., and Japan with about 3,500 products. U.S. online sales at Tiffany were in the $135-140 million range in 2006.

In 2006, Tiffany & Co. spent about 6.2 percent of its revenues on advertising, including media, production, catalogs, promotional events, and other related items. This was up significantly from the prior year, as the graph below illustrates.
Tiffany - Advertising & Promotion Spend
As a Percentage of Sales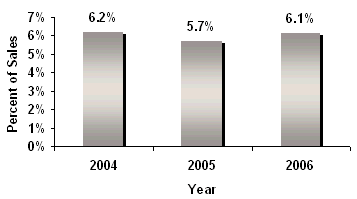 Source: Tiffany & Co
While the percentage of total jewelry sales produced internally by Tiffany declined modestly in 2006, it still represents nearly two-thirds of total jewelry volume by value, as the graph below illustrates.
Finished Goods Produced by Tiffany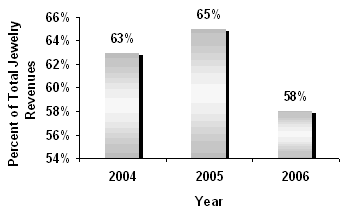 Source: Tiffany & Co
Products containing one or more diamonds of varying sizes, including diamonds used as accents, side-stones, and center-stones, represented about 46 percent of Tiffany's sales, flat with the prior year. Products containing one or more diamonds of one carat or larger accounted for 10 percent of the company's sales, in line with 2005 levels.

In 2006, about 40 percent of the polished diamonds acquired for use in jewelry were produced from rough diamonds purchased by the company.

The company's major properties are summarized on the table below:
Tiffany & Co.
Major Properties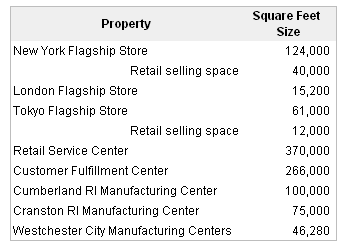 Tiffany's branch stores range from 1,300 to 18,000 square feet in size, with an average retail store size of 7,100 square feet. By comparison, the store size of the typical independent jeweler in the U.S is about 2,000 square feet, and the typical store size of a major chain (Zale, Kay) is about 1,400-1,600 square feet.

Prior to 1993, about 45 percent of the floor space in a Tiffany branch store was devoted to retail space. Stores opened between 1993 and 2001 were generally in the range of 4,000 to 7,000 gross square feet, with 60-to-70 percent of their square footage devoted to retail space. Stores opened after 2001 have generally been smaller, averaging 5,000 gross square feet. The company has four "resort" locations of 3,000 to 4,500 square feet in size.
In 2007, the company plans to open five-to-seven new stores in the U.S. market, including these which have been announced:
Wall Street (New York) – 11,000 square feet

Las Vegas (Nevada) – 9,100 square feet

Austin (Texas) – 5,100 square feet

Natick (Massachusetts) – 5,300 square feet

Red Bank (New Jersey) – 6,000 square feet
Tiffany also plans to open new stores in international markets, and it has affiliates around the world that also plan to open boutiques. The company plans to add about ten international locations annually.

Little Switzerland operates 25 retail locations in the U.S. and Caribbean, with an average retail store size of 2,500 square feet.

Iridesse, Tiffany's pearl retailing operation, operates 13 retail locations in the U.S., with an average size of 1,500 square feet. Iridesse has already announced three more new stores in 2007.

Like most jewelers, Tiffany experienced pressure on its gross margin in 2006. A combination of factors depressed margins, including a greater mix of wholesale diamond sales (at almost no margin) and a mix shift, offset by leverage of fixed expenses. The following graph illustrates the long term trend for Tiffany's gross margin (defined as revenues less cost of sales, including inbound freight, purchasing and receiving, inspection, warehousing, internal transfers, and other costs associated with distribution). Cost of sales also includes royalty fees paid to outside designers as well as customer shipping and handling charges. Because Tiffany manufactures a majority of its jewelry internally, its gross margin of nearly 56 percent is higher than the typical specialty jeweler who posts a gross margin of about 50 percent.
Tiffany & Co. - Gross Margin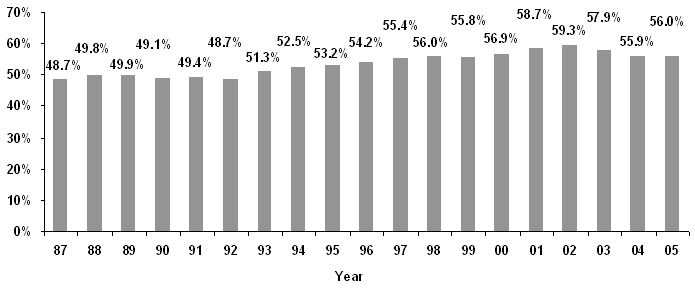 Source: Company Reports
Tiffany also provided an outlook for its 2007 financial performance, as follows:
Net sales are expected to grow by 11-12 percent. This is more than double the projected industry growth, based on IDEX Online's latest forecast.

A higher gross margin, reversing recent trends, due to stabilization of product costs, a more favorable sales mix, and leveraged of relatively fixed costs.

An increase in net earnings of about 15 percent.