IDEX Online Research: Surviving in a Tough Market - How Sterling Jewelers is Blocking and Tackling
September 23, 07
Most mass market jewelers are barely keeping their heads above water in the current environment. And while guild jewelers are posting double-digit sales gains, mass market jewelers are struggling.
Sterling Jewelers, the U.S. division of Signet Group, is one mass market jeweler who is posting well above average sales gains, and it has consistently done so at any point in the long term jewelry cycle.
As the graph below illustrates, Sterling Jewelers' sales (U.S. sales are shown) have consistently exceeded the industry sales gain each year for the past several years. This means that Sterling has gained market share every year, whether industry sales were up or down. We are unaware of any other mass market jeweler who can make that claim over such an extended period.
Total Annual Sales Change
Sterling Jewelers vs U.S. Market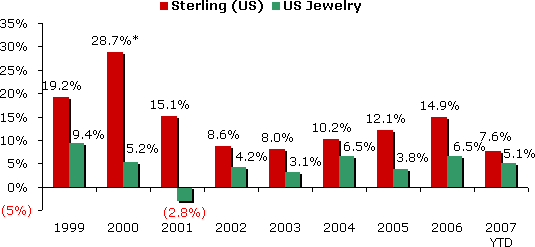 *Impact of Marks & Morgan acquisition
Source: Company reports & U.S. Dept. of Commerce
Sterling's Strategy: Block and Tackle
On a recent conference call with Wall Street analysts, Sterling Jewelers' management articulated its strategy to weather the current soft conditions in the U.S. market. Here's their formula for continuing to post solid, above-average gains. As you read management's comments, you will see that they represent simple, logical steps. Unfortunately, too many jewelers end up in a panicked, hand-wringing position, and don't stop long enough to realize that the coping skills are not rocket science, but simple, logical steps that your mom taught you years ago.
· Align operations to market conditions.
o Control volume-related costs. A large portion of Sterling's costs are related to sales volumes. For example, some store rents, staff incentives, and store consumables are all related to sales volume. When sales soften, it is important to make sure that these costs also decline.
o Adjust store staffing hours. Sterling typically cuts back on hours of its part-time staff.
o Reduce home office recruitment. When sales aren't growing, don't continue to build an infrastructure to support high growth. Wait for the tide to turn, before adding costly home office staff.
o Review medium term initiatives. Sterling stopped its ad agency from producing new creative work for this year's holiday selling season. Last year's ads will work just fine.
o Adjust open to buy. This is a true no-brainer. Make sure inventory levels are under control; maintain adequate working capital for any emergency.
· Maintain credit standards – Sterling handles its credit portfolio in-house. Most jewelers use a third party to administer their credit. When the going gets tough, third party credit providers often implement unreasonably tight standards. Sterling is not reckless, but it uses credit judiciously as a support tool to build sales.
o Despite media reports that consumer credit is crumbling beneath our feet, Sterling's bad debt ratio is well within historic ranges.
o It has made no significant change in its credit standards, though it has seen a decrease in approval rates.
o It continues to revise its collection strategies to match market conditions. It recently hired 40 new collectors to help maintain the company's low bad debt levels.
o Sterling's typical credit account is under 12 months and has a balance below $1,000.
· Leverage Competitive Advantages – In good times, Sterling plans for the bad times.
o Sterling has a strong balance sheet and solid financial returns. When the business climate turns tough, financial ratios may slip, but they remain above-average.
o Sterling continues to maintain its training and marketing budgets. If things are slow in the store, sales associates receive extra training.
o Sterling continues to remodel stores. These sparking refurbished units will be ready for customers, both now and when the business cycle recovers.
o Because of its financial strength, Sterling can continue to get the best deals from vendors who know that they will be paid according to the terms of the purchase order.
o Sterling does not change its real estate criteria. Even if a great deal on a store location comes along, Sterling knows it is in the jewelry business, not the real estate business.
o Sterling is able to leverage store leases with shopping center developers because it is an attractive tenant who pays its rent on time.
See? Nothing but solid blocking and tackling. Are you ready to stay in the game, too?