Tiffany & Co. Creates Super Bowl Rings for NY Giants
April 08, 08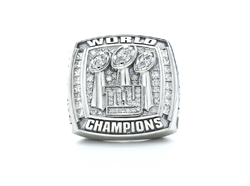 NY Giants Superbowl ring,
designed in cooperation with
Tiffany & Co.
Image courtesy of Giants.com

The New York Giants, winners of this year's Super Bowl, recently unveiled the design of their championship rings, created in cooperation with representatives from fine jeweler Tiffany & Co.
The rings are white gold and feature diamonds of approximately 1.5 carats, and will include three Super Bowl trophies, one for each of the Giants' victories in the title game, according to Giants.com, the team's official site.
The ring's top is covered in diamonds, and the trophies on the design are accented with marquise diamonds, along with the team's "NY" logo in bead-set round diamonds. "World Champions" is emblazoned in raised letters on the top and bottom bezel, with channel set diamonds on the left and right bezel.
Tiffany & Co. previously created Super Bowl rings for the Washington Redskins and Tampa Bay Buccaneers. Tiffany also annually creates the NFL Vince Lombardi Super Bowl trophy at its hollowware workshop in New Jersey.
"Michael (Strahan) said it best when he said he wanted a 10-table ring. I think everybody is going to be very pleased with the design. It is very clean, very classy, but at the same time it is very strong," said Shaun O'Hara, one of the players involved in the design process.
The Super Bowl XLII Championship ring will be presented to the Giants players and coaches at a ceremony later in the spring.